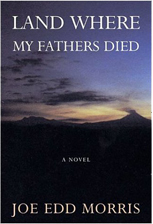 Land Where My Fathers Died, Context Books; Spring, 2002; semi-finalist, Pirates Alley Faulkner Prizes for Fiction. Mississippi Library Association Best Fiction Award, 2002
Joe Edd Morris takes us back to 1954 in his debut novel Land Where My Fathers Died, the story of a young man's search for identity, love and whatever remaining kin he may have in a South that is fast becoming so much folklore.
Incarcerated six years in a Mississippi state penal farm for a crime he didn't commit, Jo Shelby Ferguson is released a few weeks after a car accident has taken what he thinks to be the last members of his family. The only earthly possession left to him is a trunk. Among the family heirlooms stored there, Jo Shelby finds a cache of old letters written by his great-great-grandmother. A story unfolds in the chronologically arranged missives: the flight to Mexico with General Jo Shelby of Missouri following the collapse of the Confederacy, countless trials and tribulations, the ineluctable confrontation with the Juaristas.
With only forty dollars in his pocket, an old Navy Colt, his grandfather's Barlow knife, and the name Hacienda Michopa in his great-great-grandmother's abrupt last letter, Jo Shelby strikes out for Mexico, hitchhiking by various conveyances, having scrapes with the crooked arm of the law, meeting the people, and sleeping wherever he finds himself, as he follows the route of his namesake in search of the only family that he hopes against hope still remains.
" an amazing debut. It made me think of All the King's Men, Blood Meridan, even As I lay Dying. Joe Edd Morris's characters spring from the earth itself. This is a book you won't put down, a story you'll remember for many years to come. What a novel. What a writer."
– Steve Yarbrough
First novelist Morris, a Mississippi pastor-turned-psychologist who also writes poetry and short stories, tells a poignant tale of a young man's search for identity…This beautifully upbeat and enduring novel is recommended for all ages, especially in areas with large Hispanic populations. – From Library Journal
A truly memorable literary journey…combining a strong plot with first-rate characters and some elegant writing about the link between families, the land and its history…Morris's obvious talent shines through from start to finish. – From Publishers Weekly
Not long ago I heard a literary critic claim that there are only two stories—a stranger comes to town or a young person leaves home…Joe Edd Morris' terrific first novel, "Land Where My Fathers Died," fits neatly into the second category…Morris knows Mexico well, and his descriptions of the landscape and the small towns that dot Jo Shelby's way have the ring of hard-earned observation. Morris, a former Methodist minister, writes with a clear lyricism. Aware of language and what it can bring to a story, he seems equally cognizant of what it can subtract from a story. Here is a simple but completely eloquent description of Jo Shelby's thoughts at the end of the book: "He thought of where he was and how far he'd come and of his chances and what he had to lose and what he had to gain and weighed both sides of the equation and decided there were times in a man's life where simple arithmetic broke down and nothing was more than something but there was no book that ever taught that." I doubt that many writers could say it better. – From Raleigh News Observer
I picked up this book off the bookstore shelf because the cover and the author's name grabbed me (I'm a big fan of southern literature and I hadn't heard of the guy before). Needless to say, I didn't stop reading from the time I began reading in aisle, to the time I bought the book, through the time I spent on the bus, through my dinner until I slept at 2 in the morning. This book has the makings of a classic–it's that good. The language, reminiscent of McCarthy and Hemingway, guides you through Jo Shelby's quest for identity. Jo Shelby's trip from Mississippi to Mexico, in search of his only remaining kin (descendants of Confederates who fled from the states to Mexico after the Civil War–a historical fact of which I had no knowledge) makes for a gripping and compelling read, wrought with danger and violence (there is a particularly gruesome fight scene in a Mexican prison which I still can't forget) and lessons about the meaning of honor, persistence and hope. I'm amazed that this is a debut because Morris writes as a seasoned writer would–with patience and unpretentious honesty. A classic. – Customer Review Amazon.com
Buy Land Where My Fathers Died