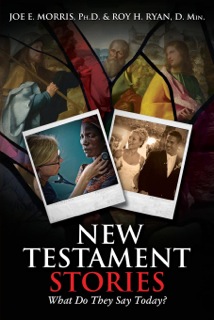 Following the success of our first joint effort, Old Testament Stories: What Do They Say Today?, several of our readers suggested a follow up. We gave the idea some thought. We decided not to reinvent the wheel. The New Testament developed from the Old Testament. Many stories, themes and ideas in the Old Testament have their counterparts in the New Testament. Our follow-up was an easy decision. We continued with the theme of relevancy and attached it to the Old Testament's companion: New Testament Stories: What Do They Say Today?
To ensure some objectivity in our choice of stories, from the hundred plus stories we each picked our top fifteen, then shared our list. We picked eight stories in common. From the remaining fourteen, we agreed upon six, rounding out our number to fourteen. Eleven chapters involve events surrounding Jesus and the last three chapters focus on Paul: his conversion, his letter to Philemon, and the Jerusalem Conference. With two exceptions, each chapter focuses on a single event. Chapter 4, "Jesus and Nicodemus," covers three different events in the life of Nicodemus and Chapter 6, "Jesus the Doctor," incorporates four different healing stories. Of the chapters about Jesus, two, 1 and 6, involve healings.
Endorsements:
"In setting these old stories about "ordinary people" in new contexts, Morris and Ryan offer readers ways to discover again the extraordinary in ordinary lives.  Their book works well not only for private devotion, but as an excellent guide for discernment with groups"
T.W. Lewis, Ph.D, Emeritus Professor of Religious Studies, Millsaps College.
"The authors, examining the New Testament stories in the light of the 21st century, challenge the reader to rethink the teachings of Jesus in today's world. The stories are presented in such a way as to make the old new and the familiar unexpected for readers. A good book for good friends to examine together!"
Cathy Grace, Former Director of Early Childhood Policy, The Children's Defense
Fund.
"Roy Ryan and Joe Edd Morris have put together a work that combines scholarly commentary with life affirming
application for Christian readers.  This book explores the deeper meaning of New Testament stories, but is accessible to the lay reader and is perfectly suited for small group studies."
Tom Wicker, United Methodist Church Lay Leader