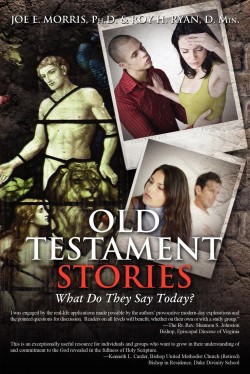 THE LATEST BOOK BY DR. JOE EDD MORRIS, CO-AUTHORED BY DR. ROY H. RYAN.
Copies are available from the authors as well as Amazon and Barnes&Noble.
Eleven Old Testament stories vibrate with new life in this carefully crafted and innovative book. The authors revisit these ancient stories and revive their messages with striking relevancy for 21st century Christians. They retell the stories within contemporary frameworks and show their relationship to counterpart passages in the New Testament. Adapted for a wide audience including preachers, teachers and laity, chapters are structured for easy assimilation: Text, Context, Message, and Questions.
This book is a must for anyone having problems with understanding and applying Old Testament themes to their faith.
"This is a meaningful and enjoyable book for several reasons. First, it is a fine resource for Biblical literacy. This is particularly important for Christians these days with respect to the Hebrew Scriptures ("Old Testament"). Also, the work enhances our understanding of the real meaning implicit in the text by examining both historical context and literary device. Finally, I was engaged by the real-life applications made possible by the authors' provocative modern-day explorations and the pointed questions for discussion. Readers on all levels with benefit, whether on their own or with a study group."
The Rt. Rev. Shannon S. Johnston
Bishop, Episcopal Diocese of Virginia
"Much to the peril of the Christian community, the Old Testament is relegated to the margins in many local churches. Yet, the entire Bible is considered as the authoritative word of God and the New Testament must be read in the context of the mighty acts of God as portrayed in the Old Testament. Using the best tools of biblical scholarship and passion for God's revelation in Scripture, Joe Ed Morris and Roy H. Ryan take the reader on a journey through the central revelatory stories in the Old Testament and their relevance for faithful Christian living in the twenty first century. This is an exceptionally useful resource for individuals and groups who want to grow in their understanding of and commitment to the God revealed in the fullness of Holy Scripture."
Bishop (Retired) Kenneth L. Carder
Ruth W. and A. Morris Williams, Jr. Professor Emeritus
The Practice of Christian Ministry and
Bishop in Residence
Duke Divinity School