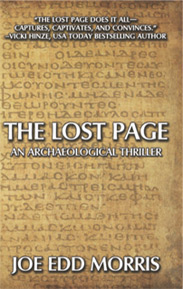 An unforgettable story fo two courageous couples who risk everything for truth.
Amid a revolution, archaeologist Christopher Jordan and ancient manuscript expert Kathryn Ferguson travel to Syria in search of the original scroll of Mark's Gospel.  Paralleling their quest is the story of the evangelist's escape with the scroll from the Roman siege of Jerusalem in 70 C.E., his struggles to com-plete the manuscript and his journeys and efforts with the daughter of Peter the Apostle to pretect and save it for the ages.  For both couples, time is running out and enemies are closing in.
Richly evocative and fiercely moving, this literary thriller explores the hard questions: Did Mark inten-tionally omit the resurrection story, leaving it shrouded in mystery? Or did it become detatched and lost forever?
Discover the answer in The Lost Page.
Endorsements:
"A brilliant novel written with the authority of a scholar and the skill of a gifted stroyteller."
– Peggy Webb, USA Today bestselling author of The Language of Silence

"The Lost Page does it all – captivates, and convinces."
– Vicki Hinze, USA Today bestselling author.