DAY 11 Katmandu
On arrival in Katmandu, we were transferred to our guest room at the Hyatt Regency Hotel where we would stay 2 nights. We arrived around 12:30. Went to bed and fell asleep. Some notes about Katmandu. It is the capital of Nepal and situated 4,423 feet above sea level. Nepal was formed as a country with current boundaries in 1816 when they lost a war with India. Nepal had a king but over time has evolved into a democracy with 3 branches of government much like USA. Our guide, Ram, and his driver, Nati, met us in the hotel lobby after breakfast. First stop, the Stupa Monkey Temple, a Buddhist temple. Our guide lectured us on the difference betwee Bhuddism and Hinduism. Buddha, he said was born in Nepal.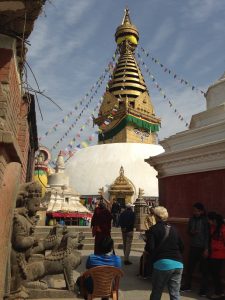 The monkeys on the grounds were Rhesus monkeys.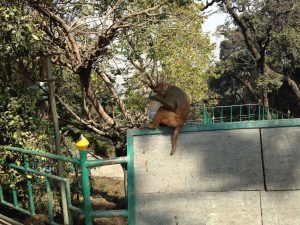 This one was trying to get something from an empty bottle. We also observed religious adherents using a prayer wheel and lighting candles, burning incense.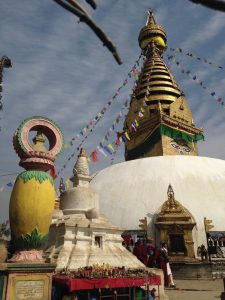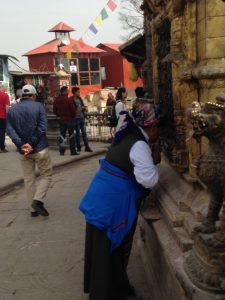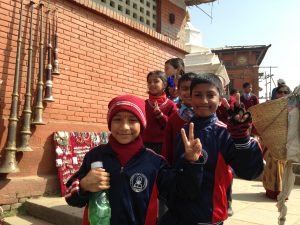 The children above posed for us. From the elevated platform of the temple we were able to get a good view of Katmandu below.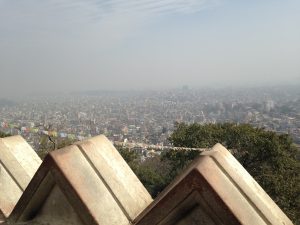 The height of the day, and possibly the trip was our visit to the Virtues Children orphanage which was in part founded by Marion Winkler, Jr. and Medford Leake.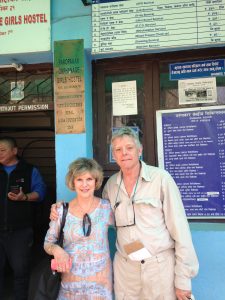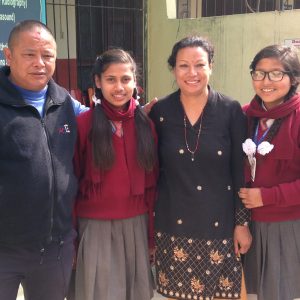 Director, Principal & students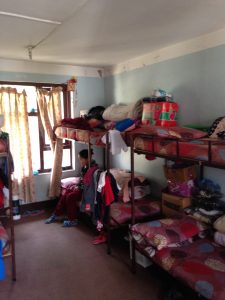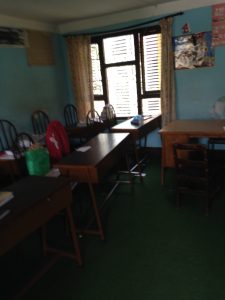 Above are a student sleeping quarters and study rooms. Below is the computer room.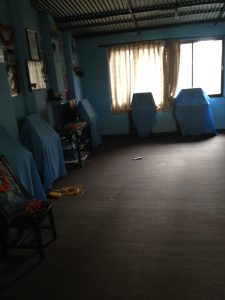 We were touched by our interaction with the children and enjoyed playing volleyball.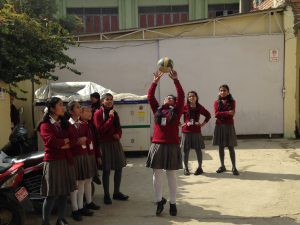 Played volleyball and, when we heard they were low on balls, we had our guide purchase a dozen at a sports store downtown. After leaving the orphanage, we were taken to Durbar Square, a plaza in front of the old royal palace of the Katmandu Kingdom. It is one of three Durbar Squares in the Katmandu Valley in Nepal and all are UNESCO World Heritage Sites. The Durbar Square is surrounded with spectacular architecture and vividly showcases the skill of the Newar artists and craftsmen over several centuries.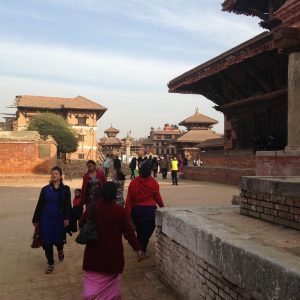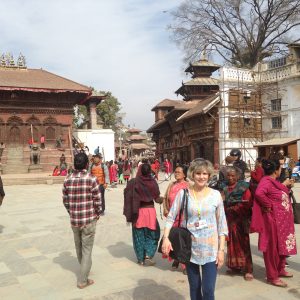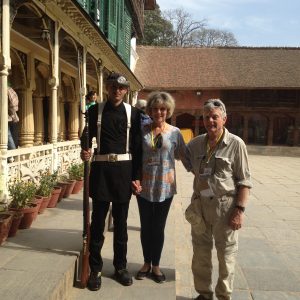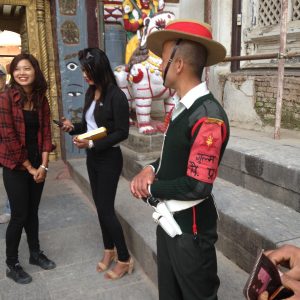 The guards were friendly and helpful. In fact, we never felt threatened throughout our entire journey. Much restoration was in progress following the earthquake two years ago.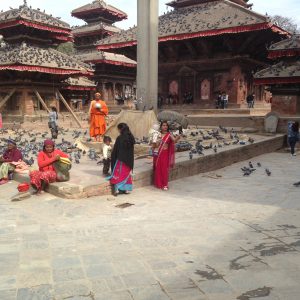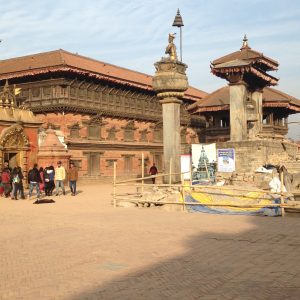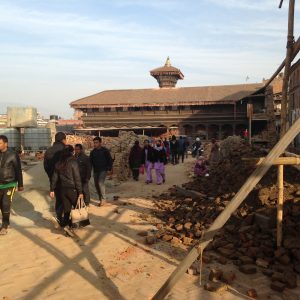 Some of the street scenes of Katmandu on our way back to the hotel.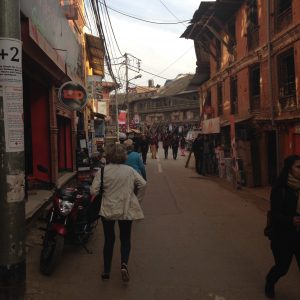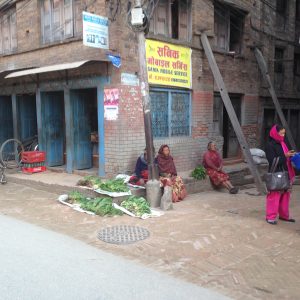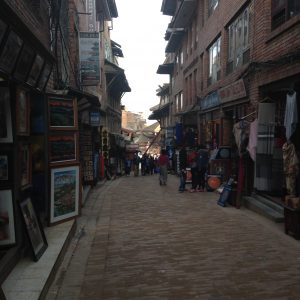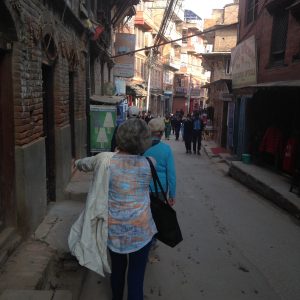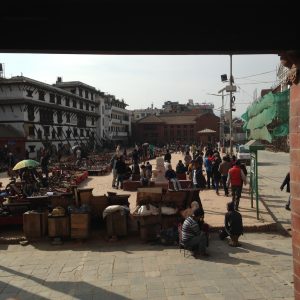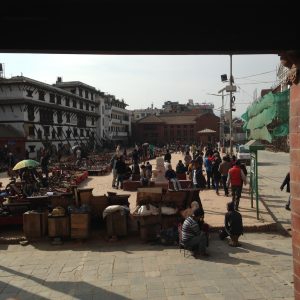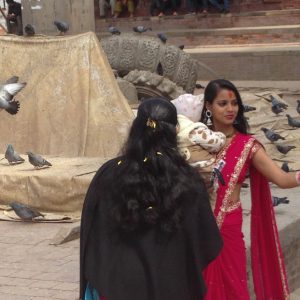 The women of India and Nepal are beautiful. We arose 5 am Monday for a chartered flight that took us along the Himalayan Range and close to Mount Everest. I will let the photos speak with a few comments.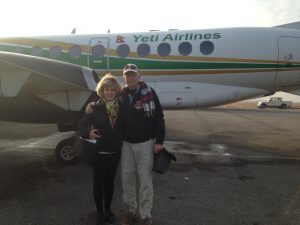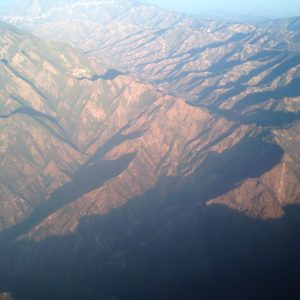 approaching foothills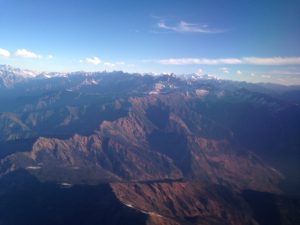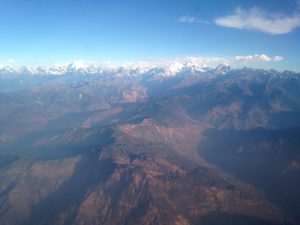 panorama of Himalyans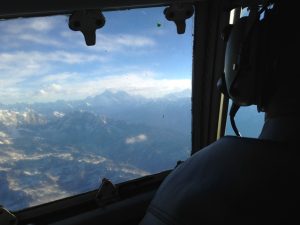 First glimpse of Mt Everest from plane's cockpit.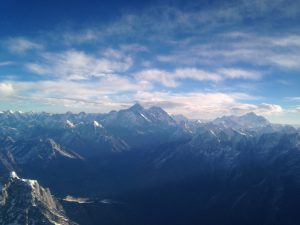 Everest peak on left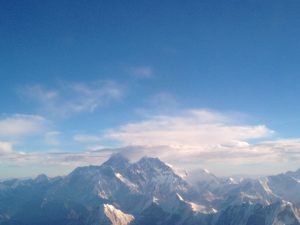 Closer shot…cloud topped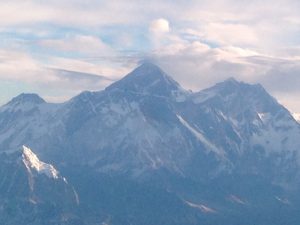 Closest we came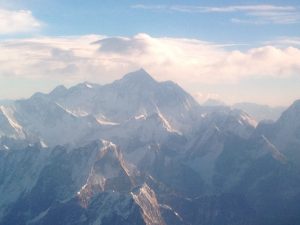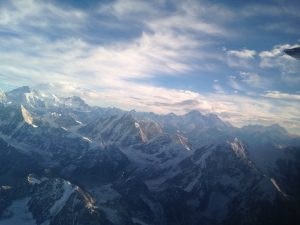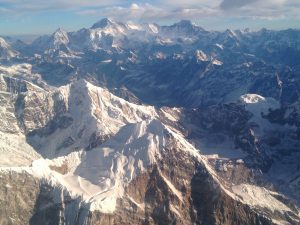 Directly above and below, shots of the Himalayan Range caused by the subduction (collision and siding beneath) of the Indian tectonic plate beneath the Eurasian plate. The range is over 1500 miles long, has over 100 peaks over 23K feet, and includes 6 countries (Nepal, Bhutan, Pakistan, India and China).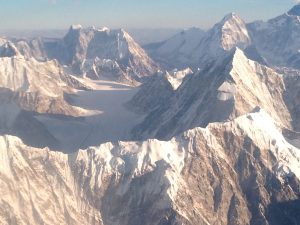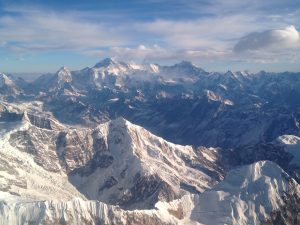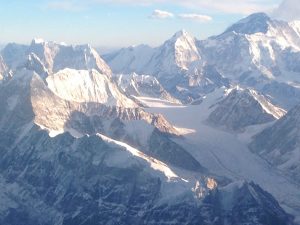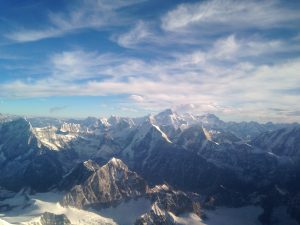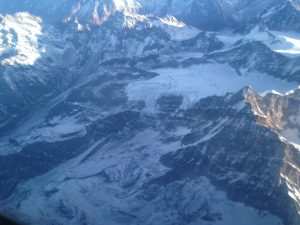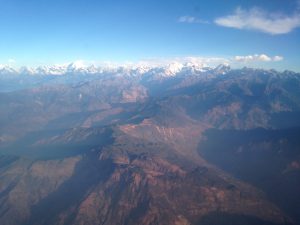 We took many more pictures but these hopefully give an idea of the beauty, depth, breadth and colossal magnitude of the Himalayas and Mount Everest. We thought we had seen it all, had reached the climax of our trip. But our guide had more in storer us. We were back at the hotel for a brief nap and breakfast before heading out again. This time to see a Bhuddist temple of repute with 31 karate gold plating covering its spire.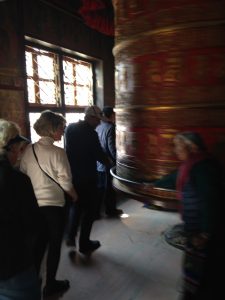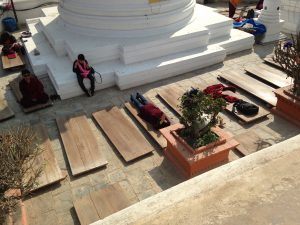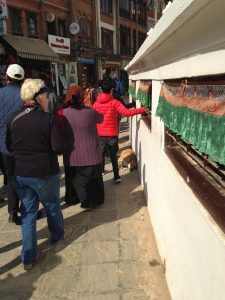 We spun a huge prayer bell and observed others worshipping. In the middle picture worshipers are prostrating themselves and those on the right turning prayer bells. Each bell has a meaning for them. We were not prepared for what we saw next at an outdoor Hindu crematorium. A body was being prepared atop a bier of four by fours. Other shots will see the preparation continue with piling on of brush above and below then lighting the configuration. The process takes 3 hours and relatives sit across on long concrete steps and observe.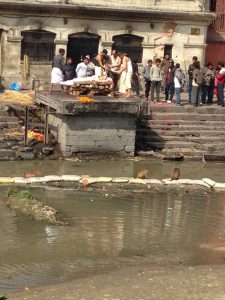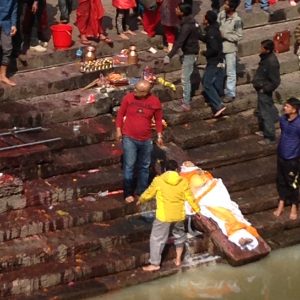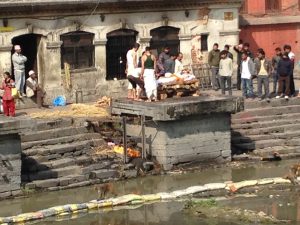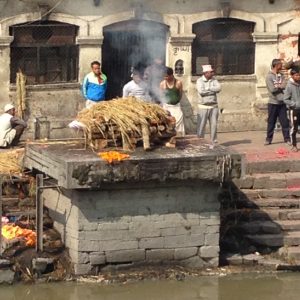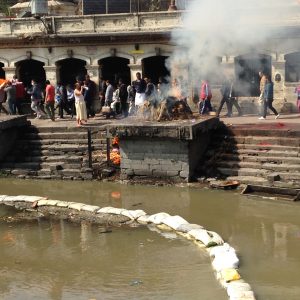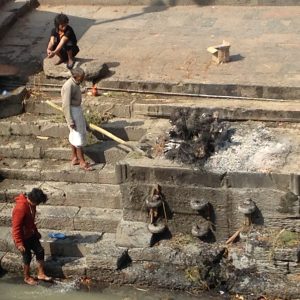 Following the cremating, the ashes are raked and brushed into the river, a tributary of Hindu's holy river, the Ganges. Another body was being prepared in the next section.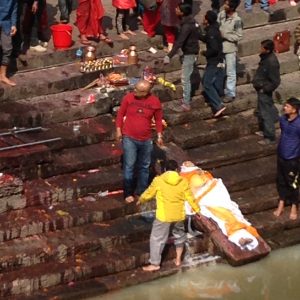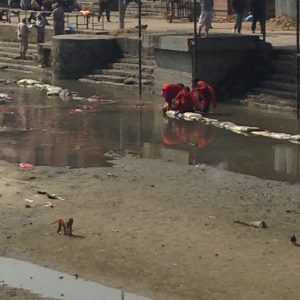 Downstream family members spread flowers on the water.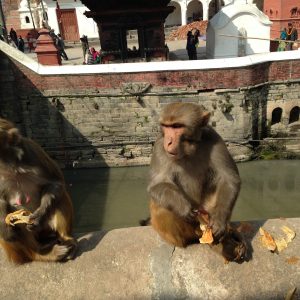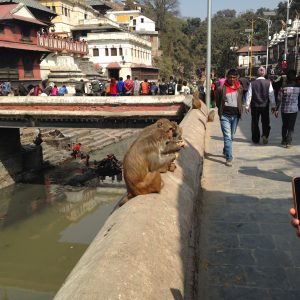 Monkeys were everywhere. As we were leaving, two holy men in their Hindu garb were sitting on a step. I recognized them as the same two my brother David and Tom Fuentes of CNN had their picture taken with. Sandi and I decided to follow suit then paid them $1 each.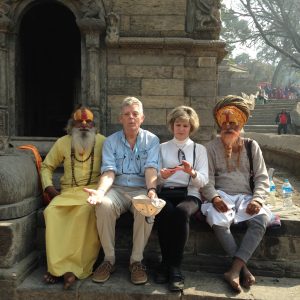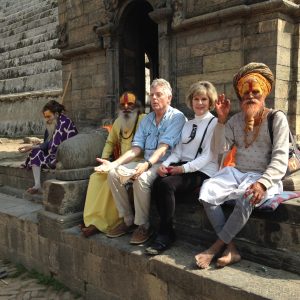 After that experience, Ram and Nati drove us back to the hotel to gather our bags then took us to the Katmandu airport where we were shepherded through the minefield of embarkation back to Delhi for our flight home. We'd had little sleep and got perhaps an hour at the Marriott in Delhi before we were whisked away again to the Delhi International Airport for a 24 hour flight home.