DAY 6  TUESDAY   JANUARY 31
This morning,  as the Deccan Odyssey traveled through the stronghold of the Marwar region, we enjoyed breakfast onboard and the striking panorama of the Thar Desert before arriving at Jodhpur.
Jodhpur, named for the ruling Jodi family (pur=city thus Jodhpur), resisted the Mongol invasion (Mongol=Mughal), opened up to western trade and developed hotels for merchants and shelters for their camels. Finally, the mughal ruler Akbar made an alliance with the city through marriage.
The sunrise, which I could not capture on camera from our room was stunning. The entire eastern rim of the planet seemed engulfed in a cosmic fire.
We had a free morning aboard the train which allowed some rest time from a very bumpy night ride. Following lunch, we set out to explore the magnificent city of Jodhpur also known as the Blue City, after the vivid blue-painted houses that surround the Mehrangarh Fort.
When Rudyard Kipling, a British attache, first saw the fort he said, "This is not the work of men but of goblins." The walls, 18 feet wide, are impregnable, thus one of the reasons this desert kingdom was able to resist the Mongols.
 Our guide took us first to the center of the city, the Clock Tower and the market surrounding it.  We walked through the bustle of the Old Clock Tower market. (See above)
Market scenes were quite interesting.
We were taken to a textile shop where the owner presented handcrafted linens.
We bought nothing but enjoyed the demonstration. I had to use the toilet so our guide, Audie, led me through a teaming mass of motorbikes, carriages and shoppers to a store a block away. I was almost run over twice by motor bikes that brushed my clothes. Sandi and Jackie went later and had similar experiences.
From the top of the fort we were able to capture panoramic scenes of the Blue City, as Jodhpur is called. You can see the blue tint on all of the buildings.
Set like a pearl amidst the stark desert, this former capital of Marwar boasts some of the finest architecture from the Rajput era, renowned for its superb forts and glorious palaces.
As we explored the city, we experienced glimpses of the lifestyle of its residents. We passed old havelis and houses and continued to the magnificent Mehrangarh Fort, the pride of Jodhpur.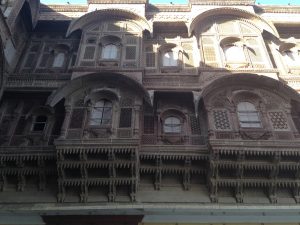 The arabesque portals were designed so the women could view out but could not be seen. The apartments below were carved from sandstone to resemble wood.

Within the fort we were given a lesson on how to make a turban.
In the evening, we enjoyed an array of sumptuous Marwar barbecue delights served in the royal courtyard of Mehrangarh Fort and admired the cityscape from atop.
We returned to the train and prepared for our leg to Agra and the Taj.