DAY 9  FRIDAY   FEBRUARY 3
Jaipur, the City of Victory, is surrounded by the rugged Aravali hills–crowned by formidable forts–and beautiful palaces, mansions and gardens. Royal processions and parades, in all of their splendour, graced these palaces and forts once.
The city is a colorful oasis in the desert and we noticed a timeless quality to Jaipur's bazaars and its people.
After breakfast, we drove to Maharaja Mansingh's 17th century masterpiece, the Amber Fort that overlooks the beautiful Maota Lake.
The fort is a sprawling complex of courtyards, halls and rooms adorned with beautiful paintings, precious stones and mirrors. The courtyard was stunning. Elephants paraded in and out of the courtyard.
The courtyard is actually a mosque. We are accustomed to mosques were people gather inside to worship, as in Sophia Hagia and The Blue Mosque in Istanbul. But in Jaipur, the temperatures in summer can get over roof and people prefer to worship outside. We had to remove our shoes before we could enter and cover exposed skin with saris.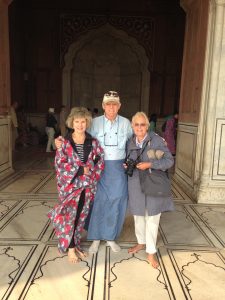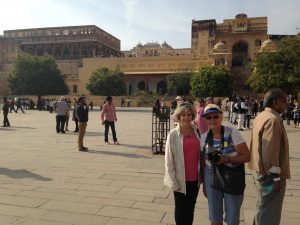 Sandi & Jackie, Amber Palace in background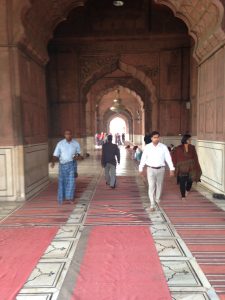 Entrance to the Hall of Mirrors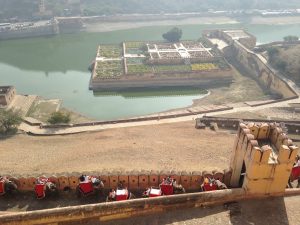 We marveled at the Sheesh Mahal, "Hall of Mirrors," where a single lamplight reflects in many mirrors and lights up the entire room, creating a dazzling effect and the palace gardens on the lake. Year round fragrances wafted up for all to smell and feel surrounded with fragrance.
Enroute to Amber Fort, we visited the Palace of Winds, otherwise known as the Hawa Mahal, famous for its intricate pink sandstone carving and a beautiful view of the city. The building is only a facade.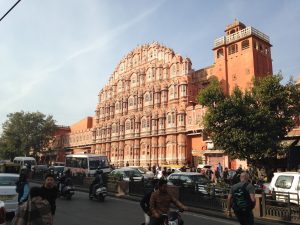 But what we saw across the street was the real thing.
We walked across to the adjacent Jantar Mantar, the astronomical observatory built in the 18th century by Sawai Jai Singh. A wondrous achievement for its time, the observatory gives accurate readings to this day. There were so many instruments spread out over a large area.
Following lunch, we had the option of choosing enjoying spa facilities at a palace hotel or exploring the colorful bazaars of the Pink City which offer a wide range of ethnic handicrafts produced in the city–center and outskirts. We choose to experience the colorful and energetic bazaar
Return to the train for our festive farewell dinner. Everyone wore a local outfit.
A group of Turks on the train were dancing in the lounge car but we preferred a quieter corner.
Next destination: Delhi.