4 DAY  SUNDAY   JANUARY 29
After a satisfying dinner and rocky overnight onboard the train (We pretended we were on a ship and "going with the flow") we arose, surprisingly fresh and good to go. Sandi didn't get to sleep until 3 and she said I was snoring throughout the rough ride on the click-clacking tracks. The train finally stopped around midnight at a station. The beds are wonderful and we are having fun finding cubby holes and ledges to put our things in a compact but adequate room, our little capsule through enchanting India.
We arrived at the capital of the Gaekwads–Vadodara, located along the season river Vishwamitri. After breakfast, we disembarked the train and proceeded to visit Champaner-Pavagadh Archaeological Park, a UNESCO World Heritage site and the only complete and unchanged pre-Mughai Islamic city in India.
We marveled at the Jami Masjid (Great Mosque) built in 1513 representing a perfect blend of Hindu and Muslim architecture which was a model for later mosque architecture in India. The mosque is an example of Indo-Islamic art/architecture.
Purification pool at the Mosque Jami where muslims would bathe before entering the mosque. This pool has not been used for centuries.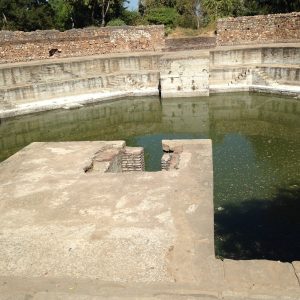 We learned an interesting tidbit from our guide. Muslims pray 5 times a day but the most important time of prayer is at 2:00 p.m. on Friday. No prayer time is more than 15 minutes, except on Friday. Friday is to muslims what Sunday is to Christians. And the 2:00 prayer time is equivalent to our Sunday morning service
We also learned that in India if a mosque had a tower/minaret, it was built by Mughals. A mosque without a minaret was built my Sultans. Sultans believe that no man should be elevated. Structures were built of three basic materials: sandstone (easier to cut but less durable), limestone (Less easy to cut but more durable) and granite (very tough to cut but most durable). From the nearby mountains, we could see examples of all three types of stone. When the earthquake hit this section of India in 2001, many structures around this mosque were obliterated. But it was not affected.
Our next visit was to the Mosque of the City, also built in the 15th century and a Unesco World Heritage Site.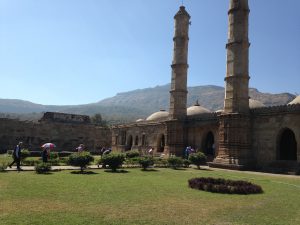 The mosque was inside a fort built at that time, the City of the Mosque Fort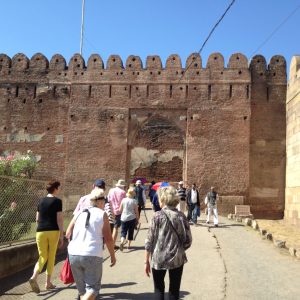 .
At 12:30, we took the hour and a half trip back to the train for a late lunch. My brunswick stew was just right. Sandi and I decided to forgo the visit to the Maharaja Fateh Singh Museum, originally constructed as a school for the Maharaja's children. Had we gone we would have seen works of art displayed in the museum including a collection of the paintings of Raja Ravi Varma and other renowned European masters as well as a collection of sculptures in marble and bronze. But we were tired and took a nap, caught up on emails and the blog.
Coming and going to these sites, we kept seeing small temples attached to homes or businesses. Our guide told us they were Jainist temples.
Jainism, like Buddhism, is an offshoot of Hinduism but ascetic and tougher. Adherents of Jain must give up all pleasure, remove their hair, follicle by follicle, eat nothing that grows beneath the soil (potatoes, turnips, etc.) drink only boiled water and always keep their mouths covered.
Dinner was at 8.
We returned to our train as it heads next to Udaipur. Dinner on board….