DAY 5  MONDAY  JANUARY 30
The Deccan rolled into Udaipur in the morning. Set on the shores of the placid Lake Pichola, Udaipur, known as the City of Lakes, is easily one of the most romantic cities in India or that we have seen on other travels.
We disembarked the train to visit the famous City Palace, the largest palace complex in Rajasthan (the name of the region), with its scalloped arches, fretted balconies, and cupolas, which also houses the spectacular Crystal Gallery.
Inside the museum of the Crystal Palace we were told an interesting story about warfare in the 16th century, how one smart general defeated another. He dressed his horses like baby elephants. The other side had massive elephants which gave them the advantage. But one elephant will not attack a baby elephant. So the horses that were made to look like elephants aided the general to victory.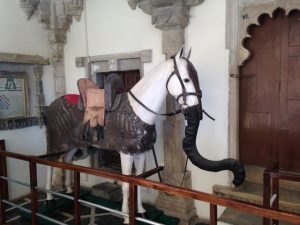 After completing a tour of this magnificent palace and museum we took a boat cruise on the tranquil waters of Lake Pichola.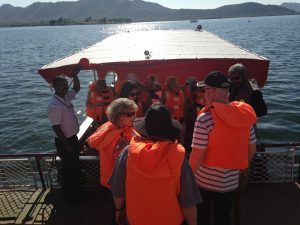 We stopped on one of the islands and our guide pointed out a structure that was the basic idea for the Taj Mahal. There are other theories about the architectural origin of the famous structure.
After a cruise on Lake Pichola, Sandi embarked on a Walking Tour of the Old City of Udaipur and sampled its handicrafts ranging from toys, bewitching puppets, wall hangings, cloth lanterns, handmade papers, jewelry,  paintings, painted wooden boxes, pottery, brassware and terracotta sculptures.
We returned to the train for a relaxing evening and dinner on board and readied for our next stop: Jodhiphur