DAY 1-2, WEDNESDAY/THURSDAY   JANUARY 25-26
Our adopted chauffeur, Jeff Galloway, drove us from Myrtle, MS to the Memphis Airport. We departed on time at noon . Arrived Atlanta 2:00 p.m. and departed there for Charles DeGaulle Airport in Paris, arrived Charles De Gaulle Airport about 8:00 a.m. after 8 hour flight. This airport has been renovated since we were there last several years ago and we had a splendid and comfortable 3 hour lay-over. Departed for Mumbai, India on time at around 11:00 a.m. and arrived there after another 8 hour flight around midnight. We were met at the airport by a Greaves Tour representative who took us to  the Trident Hotel, Nariman Point. Both of us felt fine after the smooth transferrals.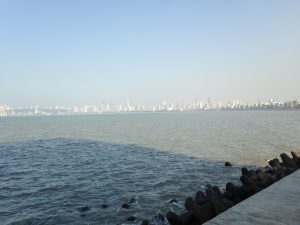 We had a free day in Mumbai and spent most of it "catching up," sleeping and resting.
A touch of history on Mumbai.  350 years ago it was a marshy, malarial area occupied by Koli fishermen. Originally, Mumbai was 7 islands and called Bom Bahia (Bombay), meaning "good harbor" in Portuguese. In the 17th century, the British moved in and the famous East India Company set up shop, paying a lease of 10 pounds a year for almost 50 years. After completion of the Suez Canal in 1870, Bombay was closer to Europe than Calcutta and quickly became the commercial center of the Arabian the Sea. Modern Mumbai has a population of about 20.5 million. In 1995, the State Government changed Bombay's name to Mumbai, the Koli fisherman goddess.