DAY 3  SATURDAY   January 28
Note: Day 2 was a free day at the hotel. We rested, hooked up with Jackie Bone, our friend from New Zealand and spent the day visiting and enjoying good food and drinks at the hotel.
After breakfast, we took a morning heritage walking tour thorugh the Art Precinct of Mumbai's British Heritage District and were introduced to the vibrant world of contemporary Indian painting and sculpture. Kola Ghoda (Black Horse) is a crescent shaped sub-precinct that has developed into a prominent cultural center in Mumbai. The crescent has a distinct visual identity because it houses a fine collection of heritage structures in Victorian Neo-Gothic, Indo-Saracenic, Renaissance Revival and Edwardian Neo Classical styles. The Kala Ghoday crescent has numerous art galleries, museums and cultural spaces, including pavement galleries. Several restaurants, popular shops, and designer boutiques also add diversity to the area.
We also visited the Gateway of India, built to commemorate the visit of King George V in 1911
Adjacent the Gate to India was the famous Taj Mahal Hotel, built in 1907, the site of a terrorist attack in 2008. We went inside for pictures in the lobby. Sandi and I were reminded of The Plaza in New York.
Photo to the left includes our friend Jackie Bone of New Zealand who joined us on this trip.
Rajabhai, the Clock Tower, is on the grounds of Bombay University,
and Victoria Terminus (known as V.T.–the largest railway station in India).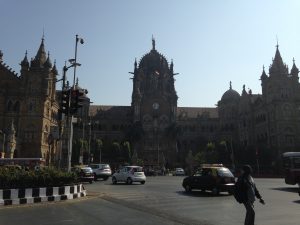 All of these sights are Bombay landmarks in classical Gothic style. Following the shorline of Marine Drive we proceeded to the Jain Temple at the top of Malabar Hill. With superb carvings on its exterior, this temple is a colorful, quiet and atmospheric place.
Anna, our guide,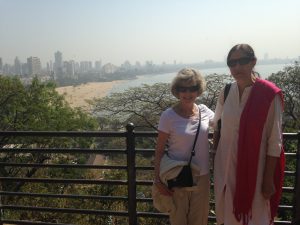 took us to one of the many gardens in the city. They were spacious, well kept and reminded us of Central Park, though on a lesser scale.
In the park, we encountered colorfully dressed women on holiday and school children on an outing.
Particularly intriguing to us were the lunch crews with their bicycles and white hats.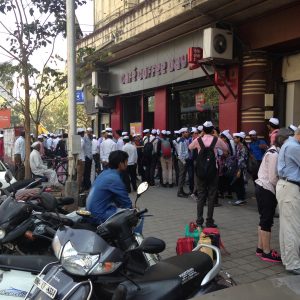 It works something like this: husbands leave early in the morning for work; their wives prepare their lunches which, through a circuitous route, are delivered to them at work. It is an amazing system.
The highlight of the day was a visit to the Mani Bhavan, Gandhi's residence when he visited Bombay. There is a beautifully crafted tableau of 28 panels, depicting key events in the great leader's life. The re-creation of the simple rooms he occupied provides an insight into this legandary figure whose influence is still very much alive in India and the world.
From cotton, Ghandi weaved his own cloaks that became famous. His two basic principles were Truth and Non-violence.
The Dhobi Ghats or "laundries" were interesting…row upon row of concrete wash pens, each fitted with its own flogging stone. The clothes are soaked in sudsy water, thrashed on the flogging stones, then tossed into huge vats of boiling starch and hung out to dry. Next the are ironed and piled into neat bundles.
Our final site before heading back to the hotel for our transport to the train was the Church of St. John the Evangelist. The is the only church in the world, according to our guide, where notches were made for members to place their guns as they worshipped.
We said goodbye to Anna
and were transferred to Chhatrapati Shivaji Terminus to complete the registration process and check in formalities for our Indian Sojourn journey (Deluxe Cabin) and receive a traditional Indian welcome and enjoy a refreshing welcome drink.We were greeted by colorful dancers and their bright costumes.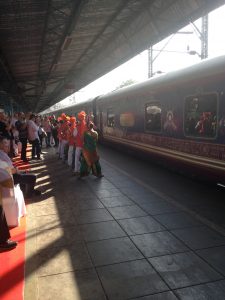 After completing the formalities, we were shown to our delightful cabin. As we settled in, the Deccan Odyssey departed from Mumbai for Vadodara..