We departed Taupo after a splendid stay at the Hilton overlooking the town and mammoth lake. The drive was easy, a straight shot on Hwy 5 into Napier, an art decor seaport on the Pacific. Descending from the mountains onto the coastal plain, the scenery along the way was lush with miles of pine forests and varieties of conifers including Norfolk pine and blue spruce. We drove through valleys as green as though we might have been traveling across Ireland contrasted with brown hues, signs of approaching autumn in the southern hemisphere.
And then there were the surprise waterfalls.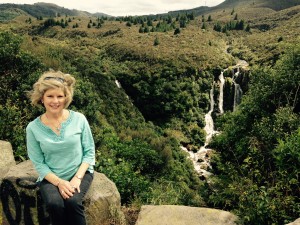 After a few road construction delays, we finally arrived at the Hotel Te Pania on the shore in Napier. The view from our room was a panorama of the blue Pacific punctuated by Norfolk pine and colorful gardens.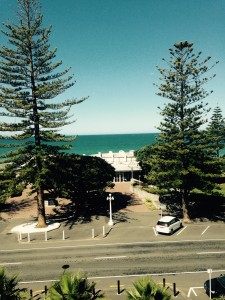 We leave early in the morning for a 4 hour drive to Wellington, the capital of New Zealand, to catch the ferry to Picton on the South Island where we'll be met by dear friend Jackie Bone. Sadly we will miss seeing Allen by her side to greet us once again to their world. This will be almost 15 years since we were their guests. We understand the passage from Wellington to Picton is spectacular. We can't wait.