New Zealand Journal Day 6
We arose at 6 a.m. to a stunning sunrise in Napier, Hawkes Bay.
After a light breakfast, compliments of Te Pania our lovely hotel, we packed for the long 4/5 hour drive to Wellington. Along the way south on State Hwy 2 the Ruahine Mountain Range (Rocky Mountain style) flanked us on the west and rolling brown/green hills on the east (Smokey Mountain style) as we followed the Classic Wine Trail passing through picturesque small towns that could have been cut from post cards.
The Ruahine Range dropped off and the Tararua Range picked up. At one point the climbing highway turned into a series of hairpin turns and twists before descending into the coastal plain and the Wellington area. We did well with directions until we reached the Picton Ferry area and missed our exit. A kind lady had us follow her to our destination. The rest was easy, boarding the ferry flawless. We sat in a special lounge which was one of the best accommodations we have had on a boat in a long time: plush seats, free drinks and food, quiet atmosphere and easy access to the decks.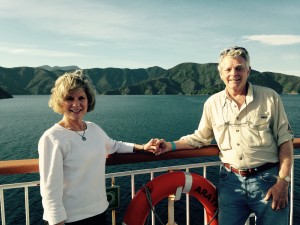 The scenery as we entered the Picton channel was outstanding.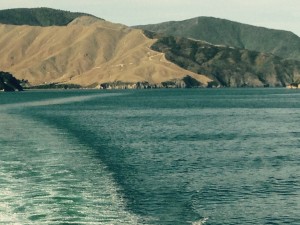 Along the way through the channel strait, we saw fish farms like this one. At first, we thought they were barges.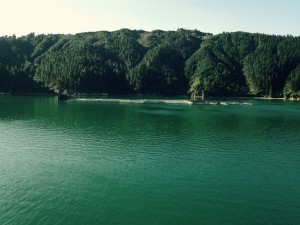 The trip across Cook Strait lasted about 3 1/2 hours and Jackie Bone was waiting for us. We drove to Blenheim and stayed in a very nice motel where we had local wine and fish dinner.
New Zealand Journal Day 7
After an adequate breakfast, we went to downtown Blenheim to buy Sandi a short-sleeve shirt. Blenheim is a quaint village with narrow streets and interesting shops and cafes. A short drive to the Brancott Estate wine center proved to be quite an educational experience. Looking out over a panoramic vineyard, what looked like miles and miles of vines reminded me of how the Delta must have looked when cotton was king. Vines stretched in every direction all the way to the horizon.
We enjoyed some wine tasting from samples of Marlborough Savignon Blanc. Jackie and Sandi are on the right.
If we thought the Brancott was the top vineyard experience, the Yealand Winery took us to the next level.
The Yealands Family Wines was established in the 2001 by Peter Yealand whose motto was "Think Boldly; Tread Lightly: and never say it can't be done." Yealand Winery is New Zealand's most most coastal vineyard bordered by Cape Campbell and the Awatere River. We were very impressed with the Yealand's operation and their dedication to conservation. We encourage any who read this go Goggle Yealand Vineyard, New Zealand and check them out. The wines we tasted were excellent. Their wine samples were exquisite. Jackie drove us on a tour of the vineyards which took us along the coast.
The drive to Kaikoura along the coastal road offered stunning views of the coastline and mountains.
We stopped at a Ohua Seal Colony and took numerous pictures.
We checked into our motel, one that reminded Sandi and me of those we've stayed in with parents in the Smokies or on the Gulf Coast. We had a glass of wine at a seaside restaurant.
Dinner was at the Green Dolphin overlooking the bay at Kaikoura. We watched a magnificent sunset as we finished and drove to a bay where we observed more seals.
New Zealand Journal Day 8
We left Kaikuroa about 9 a.m. and drove down the coast toward our inland destination, Hanmer Springs. The coastline continued to be spectacular, mountains rising straight from the sea. We crossed plains with mountains looming on all sides, scenes that could have been in Wyoming.
We stopped in a small village where Jackie's mother grew up and had breakfast.
Then on to Hanmer Springs for lunch after checking into a very clean comfortable motel called The Settles.