New Zealand Journal Day 9
After breakfast we spent the morning and part of the afternoon on a harbor nature cruise gratis per one of the managers of the cruise. When she learned we were guests in Akaroa she insisted Sandi and I, along with Jackie Bone, be her guests. The morning began overcast but the sun broke through at times spilling light over the surrounding volcanic mountainous terrain. Akaroa Bay was once a volcanic crater pierced by the sea which flooded in creating the large and scenic bay. The wind was brisk and cold. Sandi and Jackie sat inside. I went onto to get photos.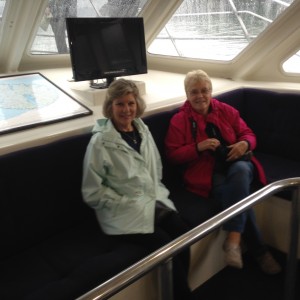 As the boat pulled away from port, I was able to get a couple of aft shots of the village of Akaroa, population about 600.
Ahead of us, and our destination, was the entry to the harbor. One can see the walls of the crater and where they were eroded by the Pacific Ocean.
Often, the most captivating photos are behind, and not before, us. As we sailed further from shore, the sun broke through for this stunning shot.
We were told to be vigilant for penguins in the area and behold one appeared. all alone and seemingly unperturbed by the boat. He stayed with us for a while. I took numerous pictures but these were the best. You have to look carefully, but he can be seen in the upper middle of the left photo and the lower center of the one on the right. Our guide said this spotting was a rare occasion.
Punctuating the walls of the cliffs surrounding the bay are numerous caves carved by wave activity. They are dark and red in color, the colors of the volcanic action that created the bay and surrounding cliffs. In geological terminology, we were in a caldera.
Several colonies of seals were spotted. They are difficult to see because their color blends with the rocks.
The sea is quite rough at the mouth of the harbor and our captain turned around and headed back to port. On the way I spotted one lone dolphin, briefly, to quick to get a photo.
After an afternoon rest, we returned to Bully's where we ate the previous evening and feasted on a selection of seafood.
We went to bed early (8:00 p.m.) because we had to arise at 2 a.m. to be at the Christchurch Airport by 4.