Silver Anniversary Voyage Blog
June 11, Day 10: Roma
After breakfast in the hotel, we crossed the plaza to the Pantheon and saw its interior for the 3rd time in our lives and each time saw something different and were lifted to a higher level. The structure, the oldest in Rome and one of the oldest standing structures in the world was built in 126 A. D. by Emperor Hadrian.
Inside the Pantheon, among others, are the tombs of the Renaissance artist Raphael and the king you unified Italy, Emmanuel II whose large monument we also show in other pictures.
We took a taxi to the Coliseum. We had both been several time before but wanted to take pictures for our grandchildren. The pine trees, which one sees all over Rome, were imported from China.
From the Coliseum, on pavement over two thousand years old,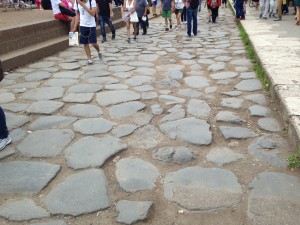 we strolled along the Roman Forum, the ancient market and political center of old Rome.
Along the way we saw the Arch of Constantine, the emperor who have Christianity legitimate status in the Roman Empire in 312 A.D.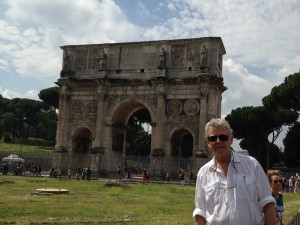 and the Arch of Titus who conquered Jerusalem in 70 A. D.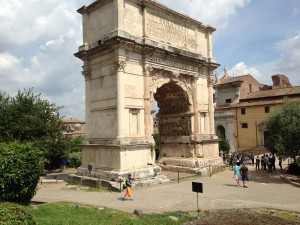 From the Roman forum, we walked along the Via Imperial (Way of the Caesars) to the Emmanuel II Monument I had wanted to climb from the first time over 40 years ago I saw it. Emmanuel II was the first king of Italy who united the country in the mid-1800's.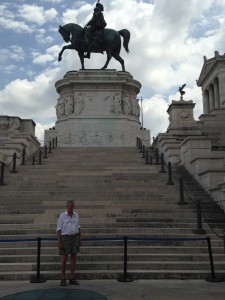 The monument is also the site of their Tomb of the Unknown Soldier and considered very sacred.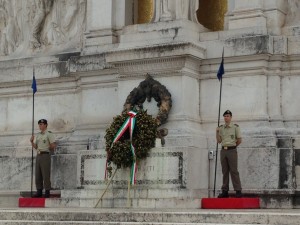 Next on our final day was St. Peter's Basilica, the Vatican.
We stopped at a small outside cafe for refreshments near the Castle De Angelo, the fortress of the popes.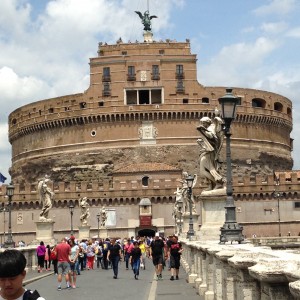 Having achieved all we wanted to see on our last day, we began the long walk back to our hotel and had lunch in one of the outdoor cafes next to it, in fact, right next to its entrance. The same accordion player from the night before showed up, recognized us and we gave another tip. We went to our room and began packing. One more event, dinner tonight on the Via Sistina overlooking Rome.
Plaza de Rotunda (Pantheon) in late after noon.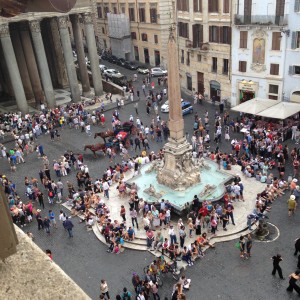 Plaza de Pantheon at night.
June 10, Day 9: Roma
We slept until 8:30, ate breakfast at the hotel, a nice continental fare with fruits, eggs, fruit juice, breads. About 10:30 we struck out for the Spanish Steps, about a 15 minute walk from our hotel. Along the way we became intrigued with an ancient church near our hotel. We had seen the edifice the day before and were fascinated. We entered through a large door and were surprised at the interior, the fabulous art and statues. It was a miniature St. Peter's.
Some scenes of Rome along the way to the Spanish Steps:
Beside the Spanish Step, we enjoyed herb-flavored iced tea at Babington's English Tea House. We had tried to have dinner there twenty years ago and the proprietor said she was full but arranged for a taxi to take us across the Tiber to a very nice restaurant. The decorum is quite English and the place has an interesting history.
The Spanish Steps were under renovation and blocked so we continued to the Fountain de Trevi.
Twenty years ago we had thrown a coin in the fountain for our good luck and apparently it paid off (pun unintended.) A large crowd was present so we moved on ending back at our hotel for a pit stop. Next, we made our way to the Plaza de Navarone.
We found a restaurant we liked and the server helped Sandi open her clear nail polish and polished her fingernail.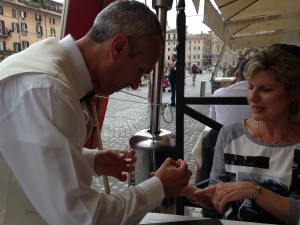 The lunch was delicious. In honor of Herbert Graham Rogers, I had cannaloni and Sandi had a salad. We texted Swift, Herbert's widow and told her. While dining, I was fascinated with the cluster of flowers around windows and took a picture of one.
Following lunch, we walked up a set of stairways to the Via Sistina and made our way back to the Via Corso and our hotel where we showered and rested briefly. Dinner was at a nearby restaurant. We didn't have to walk far. The meal was mediocre but a highlight was a strolling accordion player approaching our table and playing for us.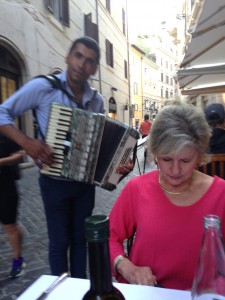 After dinner we took a leisurely stroll around the very crowded Plaza de Rotunda, around the Pantheon noting its ancient layers of structure, decay and renovation. Before leaving, I got a shot of the Pantheon with a chip of moon.
June 9, Day 8: Roma
Storms with lightening struck our port delaying our departure. In rain, we met our driver, John Paul who was very nice and took us from the Cittivechia (Old City) to Rome, an hour and half drive. We arrived at our destination, the Piazza de Pantheon and our hotel. Our room was not ready so we stepped across the street and had something to drink and enjoyed the view.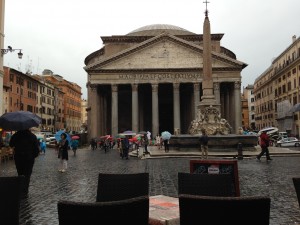 When we were able to get into our room, we were greeted with cello music (one of Jason's favorite pieces) in the piazza below and fantastic views.
After checking into our room, we slept until five o'clock. Our reservations at the Imago Restaurant in the Hassler Hotel overlooking the Spanish Steps were at 7:00 but were changed to 7:30. We took a taxi which took longer than we'd calculated and arrived at the Imago at almost 7:45. The sun was setting so the panoramic view of Rome was stunning.
A better picture of the bell tower right out our restaurant window.
We were right on top of the Spanish Steps. Photo to far right shows bell tower with Spanish Steps.
Other sunset panoramic photos of Rome. St. Peter's Basilica dominates. It is the largest church dome visible.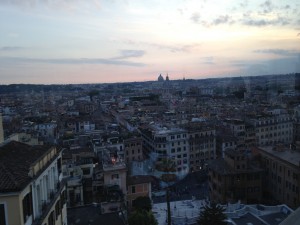 "A Table With A View
June 8, Day 7: Florence
We took a bus from the ship to Florence where we spent the day reviving old memories and making some new ones. We touched the familiar bases: The Duomo (cathedral), favorite squares and a favorite restaurant plus a visit to the Hotel Brunelleschi where we stayed 20 years ago.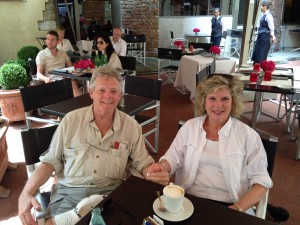 The day was marred at the end with a downpour. We returned to the ship and packed. One of the highlights was a visit to one of our favorites: Santa Croce to see the tombs, once again, of Dante, Galileo, Michaelangelo, and Machiavelli.
The ride back to the ship was uneventful. We meet our Alabama friends for dinner al fresco, seafood again then we packed and went to bed.
June 7, Day 6: Cinque Terre
We were up early to catch the ship shuttle to a city bus to the central train station in La Spezia where we took a train to the Cinque Terre (5 Lands or 5 Cities, as they are called). The trip cost us $36 total, round trip…a savings considering we would have paid over $300 for an excursion. The train was very crowded, loud French.
We got off in Riomaggion, the first of the 5 cities. We had to walk through a very long tunnel then up some steps to get to a walkway that led to Riomaggio. Houses of varying pastel colors climbed sheer cliffs. The sea was brilliant blue and we could see the bottom in the small harbor surrounded by small fishing boats. Below are some scenes from Riomaggio.
We had a coke and coffee in a small cafe at the top where a large dog held court.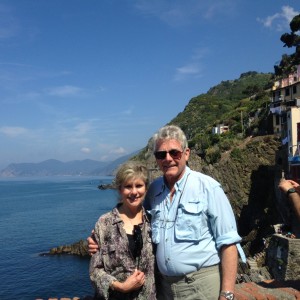 Next we went to Manarola…immediately below, Manarola from Cormiglia.
More pics of Manarola.
Then on to Cormiglia. We had to walk a couple of hundred yards to get us to a steep series of steps that went on and on and on…I wasn't sure I could make it.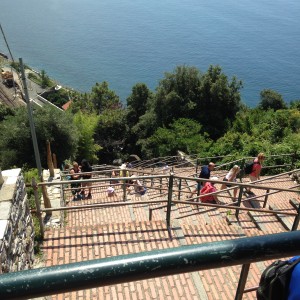 But we did and the small village was delightful.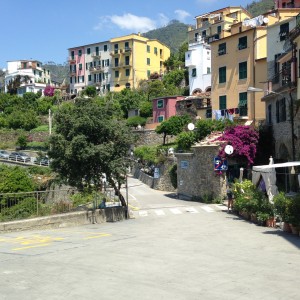 We had lunch in a quaint cafe overlooking the sea. I had a hotdog and Sandi had a caprese salad, which is what Sandi eats almost every day. We walked back down the steps and back across the long walkway to the train station and waited another 45 min. for the next train to take us to Vernazza.
Vernazza was a disappointment. The scene was crowed and the place highly commercialized. We walked to the beach/harbor, had a cone of ice cream (gelati) and then back to the train station which was, this time, nearby.
Our final of the Cinque Tere  was Monterossa. It, too, was a disappointment. Long beach fronts with umbrellas and also highly commercialized.
We did find one appealing scene. Looking back down the coast, Sandi said, "there they are the four other villages. The photo below is clouded but we could see them embeded along the coastline.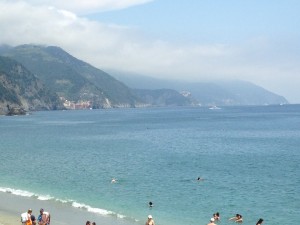 We took the train back to La Spezia, found the bus stop to catch the #3 bus to the ship and were back aboard by 4:30. We had begun at 9:00 a.m. We ate dinner in the Terrace Cafe, all the lobster, shrimp, crab we wanted then retired for the evening to prepare for Florence and Pisa tomorrow, two places we have previously visited but look forward to a walk down those memory lanes.
June 6, Day Five: Portofino
Portofino is small port in northern Italy. The ship anchored in the bay and we took tenders to shore. We found Portofino to be a surprise along with many others. The harbor is small but accommodates large yachts.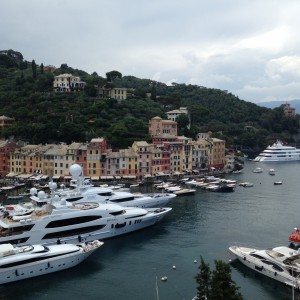 The buildings of Portofino are multi-colored and aline themselves around the harbor and marina.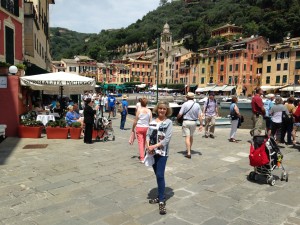 The village is typically Mediterranean with many shops and restaurants. We spent most of our time walking around, exploring a few shops. Sandi brought a couple of runners for our dining room tables (large and small). I've tried to pick up a magnet from each place and Portofino was no exception. We had eaten a late breakfast so enjoyed drinks at one of the smaller cafes along the harbor walk. The following postcard images define this memorable place.
When we returned to ship, Sandi washed clothes and I tried to catch up and get ahead with the blog and Facebook pictures.
June 5, Day 4
Docked Monte Carlo, Monaco. We can add one more country to our list. Monaco is a small principality, a country in its own right with a prince and princess. The harbor was full of yachts.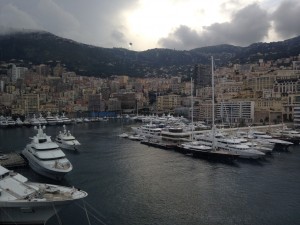 After breakfast we joined our friends from Mobile, Gary and Melissa Foster, and rented a taxi for Eze, a picturesque and quaint village up a steep mountain. The views of the surrounding sea, marinas and mountain from the top of Eze, which was a steep climb, were breathtaking.
To find a good restaurant we climbed up and down this mountain and finally settled on one that served crepes.
We spent most of the day at Eze, going and in and out of the shops, an upscale Gatlinburg atop a mountain in southern France.
After a nap and dinner in the Italian Restaurant Toscani, we caught a cab with the Fosters and another friend Larry to the Casino.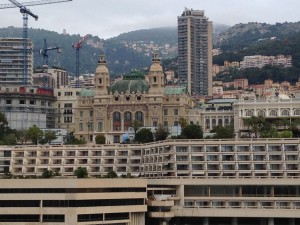 I did not have my passport or driver's license. Once he was in, Gary came back and gave me his driver's license. It didn't work. They picked up on what we were doing and that effort was scrubbed and we walked back to the ship and went to bed very tired.
June 4, Day 3
The ship docked at Marseille, the second largest city in France and largest seaport of that country. After a good breakfast, we left the ship at 10:00 a.m. to find a taxi to take us to the central train station to catch a train to Avignon, the picturesque city of the popes when the Papal Court resided in that city from 1309 to 1377.
(Historical interlude: When the conclave elected Clement V, a Frenchman as Pope in 1305, he declined to move to Rome and remained in France at the papal enclave at Avignon, where it remained, through 7 popes, for the next 67 years. All seven popes were French and teh era has often been referred to as the "Babylon Captivity of the Papacy. In 1376, Gregory XI abandoned Avignon and moved his court to Rome in 1377, officially ending the Avignon Papacy.)
Back to our taxi. His name was Thierry (Terry) and he informed us there was a train strike. We inquired of his services. They were reasonable. Off we went with Terry our taxi driver, on his birthday, to Avignon. Along the hour drive we saw vineyards, farmland and limestone outcrops on either side. We arrived in Avignon about 11:30 and after Terry found a place to park in a garage, we begin walking through this old walled city of papal history. Some of the photos below provide examples of medieval splendor when the popes resided in Avignon.
The pictures above are of the Papal Palace at Avignon.
We climbed steep steps that reminded us of climbing up the Great Wall of China. We had lunch in a nice, but inexpensive, outdoor cafe and we bought Terry his birthday meal. He was very nice, considerate and cared deeply for others.
Street scenes of Avignon
The Bridge of St. Benedict/Avignon and the Rhone River
Terry told us he had a surprise for us. Keep in mind all this time he was not just our taxi driver but our personal guide. He drove us to Gordes. We had never heard of Gordes. But we will never forget Gordes, this magnificent walled city that towers almost out of nowhere south of Avignon and on the way to Marseilles. We were literally on top of a mountain with the world of the French countryside below.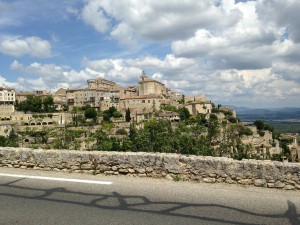 The approach to Gordes
Scenes of Gordes
We sat on a cafe that hung out over a steep cliff. I had goosebumps as I drank a beer and could see almost a thousand feet straight down. The view was unparalleled.
Above are some scenes from Gordes
Terry returned us to the ship and we hugged him and sadly departed. But he told us it was one of his best birthdays ever. He knew we were celebrating our Silver Anniversary and wanted to make the time spent in France memorable. And it was…and will remain. God bless you, Terry. We have thought often how the journey could have turned out if there had not been a train strike. The money we spent, more than a train fare, was a sound investment.
We enjoyed dinner that evening in the Grand Dining Room. Sandi looked especially pretty.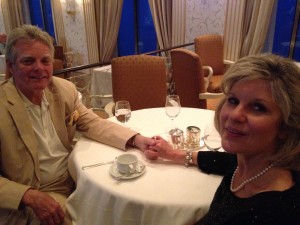 June 3, Day 2
After a late breakfast aboard ship, we took a shuttle to the Cathedral at Mallorca in the heart of the old town. The cathedral is a massive structure that dominates the skyline of this old and historic city.
From there we followed the narrow meandering streets, found a quaint shaded cafe (Cafe de Muzo) and enjoyed some beverages while resting.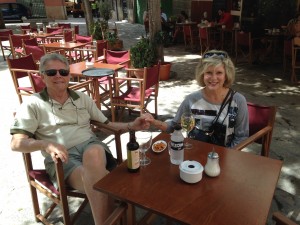 Along the way we encountered a group of school children (probably kindergarten age) who were a cute sight dressed in their matching outfits and backpacks.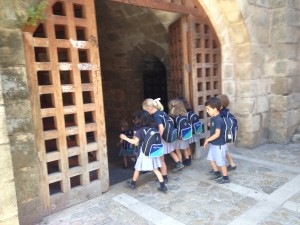 June 2, 2016:  Day 1
We arrived in Barcelona at 8:00 a.m. after an 8 1/2 hour flight from Atlanta that was smooth and uneventful. We were met at the airport by a crew from the Oceania Rivera liner and taken on a very informative bus tour of Barcelona. Sandi and I had been to the city several years ago but saw many things we did not see then including the Picasso Museum, remnants of the old city wall and the Olympic stadium. Barcelona presents as  a clean classical city rivaling Buenas Aires and even Rome, and much cleaner than the latter. We stopped at the Segrada Familia, the cathedral Gaudi began. Completion is expected in 2026, the one hundred year anniversary of his death.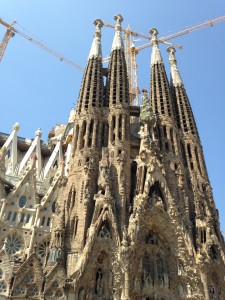 We were then taken to our ship and, after a brief lunch at the Terrace Cafe, directed to our room which was not as large as we expected on the Concierge level. We quickly met a couple from Mobile, Melissa and Gary, who later introduced to another couple of that city, Larry and Corrina, and we bonded. Following drinks and dinner, Sandi and I retired to our room, very tired, and slept well.
More tomorrow when we dock at Majorca.
June 3, Day 2–Mallorca or Majorcia
After a late breakfast aboard ship, we took a shuttle to the Cathedral at Mallorca in the heart of the old town. The cathedral is a massive structure that dominates the skyline of this old and historic city.
From there we followed the narrow meandering streets, found a quaint shaded cafe (Cafe de Muzo) and enjoyed some beverages while resting. About 2:00 p.m., we took the shuttle back to the ship, at a light lunch al fresco at the Terrace Cafe than took a nap. I iced down the complimentary champagne provided by the ship and we tilted glasses before dinner.