Monday, June 25
About 7:30 a.m. Yalta appeared in the distance and the ship docked at 8:00. Standing on our private deck we saw a picturesque harbor, colorful gingerbread gilded resort hotels and home tiered up the sides of the mountains.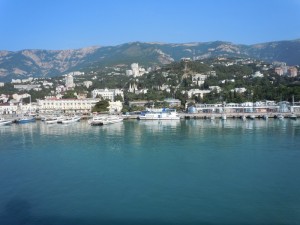 The weather was balmy and warm, in the 80's, sky crystal clear. Along the shore a carnival atmosphere percolated, people bathing, swimming in the sea with their children, others on carnival rides. We saw a McDonald's in this city of 200,000.
At this port we took a ship excursion, which may have been a mistake. We were crowded into buses and taken to various sites. First stop was a monument to soldiers who fell during the Revolution of 1917 and WWII. I volunteered to lay a wreath of flowers at this eternal flame.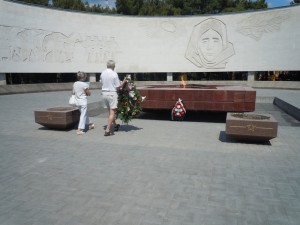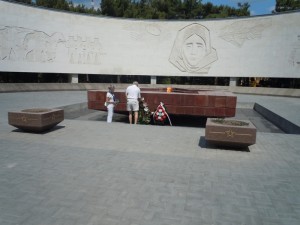 Next was the white palace where Roosevelt, Churchill and Stalin signed held the Yalta Conference of 1945 and signed agreements. We saw the large room where negotiations took place between the three and their associates.
Photos lined the walls. I had forgotten that Averil Harriman was one of Roosevelt's aides. We saw the garden where the famous picture was taken of the three, Roosevelt looking gaunt with hollow eyes, a cape around him. He died two months later. I think the travel was a factor. We visited St. Michael's church with its shiny gold dome. Water Closets were always nearby, thankfully. Our last stop was the "Sparrow's Nest", a photo op with the Black Sea as backdrop. In downtown Yalta we ate at a unique restaurant. I had flounder that was good. Sandi had Borsch soup that was not so good. Back on the ship we went through out usual routine: nap, shower, wine and dinner.
Tuesday, June 26
We slept late this morning, up 9:00, b'fast in the Lido and off the ship by 10:45 and in for a great surprise. Sevastopol was a sleeper, more interesting than any port we'd yet visited, as picturesque as Yalta. We hired a taxi guide at a reasonable price. In fact, we were climbing the steps from the harbor into the town and a young man accousted us, told us the fee the places we wanted to see then took us to meet our driver…Alexander. But not before we were interviewed by the local television station, asked questions about our interests in Sevastopol. They seemed impressed we knew about the origins of Christianity in the area. Who knows, we may be famous there. Alexander proved a worthy driver and his English was adequate. He took us first to the Tauric Chersoresos, ancient Greek ruins that became the Roman and Byzantine center in the first centuries C. E. From this place, Kherson, Christianity spread all over the Crimea.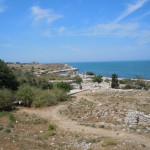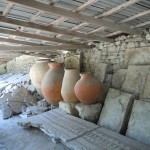 The next visit was to a place out of a James Bond movie, Balaklava. It is a naval museum complex with underground facilities for building and hiding submarines. Spooky is a good word to describe our venture through these underground tunnels and canals.
Alexander took us to a high vantage point where we could photo the beautiful valley and small inlet that was the base for Soviet submarines during the Cold War. In fact, Sevastopol continues to be the major Russian naval base due to an agreement worked out with the Ukranian government. The Russians will continue to supply them with energy as along as their ships can remain in the port.
After Alexander deposited us back at the port entrance to the city, we enjoyed strolling down streets and boulevards reminiscence of those in major European cities. I felt we were in Vienna or Paris. The language was as different as any we'd heard, except possible Chinese. We went in some elegant shops but bought nothing. I had a beer and Sandi had tea at a cozy outdoor café. One interesting observation. On the entire trip around the Black Sea, we saw no blacks.
Wednesday, June 27
The ship docked at Odessa, Ukraine at 8:00. Our captain was punctual. We were there two days. The first day we gave four hours volunteer time at a homeless shelter for street children. There were only about ten of us who volunteered and the mini-van trip there was a bonus. Our guide pointed out famous sites such as the homes of Pushkin and Gogol, famous Ukraine writers, and the opera house. The city is compact with everything worth seeing within walking distance.
The name of the homeless shelter was The Way Home—Odessa Fund for Rehabilitation and Social Adaptation for Homeless Citizens. We were greeted by Sergei Kostin, president of the organization. He gave us a tour of the facility, which was clean and neatly arranged. The bedrooms were small cubicals but ample for three beds and bed tables.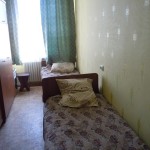 Some of the children were in classes (based upon the Montesori model) and others in conference with psychologists or counselors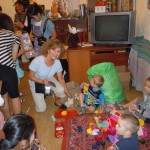 We met one young attractive psychologist who was engaged in therapy with two young boys. Both stood politely and told their stories. One wants to be in the Olympics. The conversation with all three, our guide Elena (Helen) interpreting, was most informative.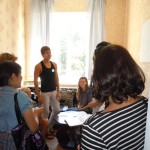 In all of our discussions the word "psychology" came up over and over. There is a big emphasis on rehabilitation. Elena interpreted as we visited with Stan, a 23 year old former drug user. He attends a Baptist church and comes to the facility on a regular basis volunteering his time. He told us his incredible story of drugs and homelessness.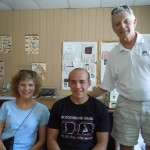 Sergei, the director of the shelter, in his fifties, was a former drug addict. Sandi and I made a donation before we left and the recipients seemed very gratified. The money would go to buy books. A highlight of the visit was a dance presentation, various types of music, including a ballet performance by a very young girl, maybe four or five.
When we arrived we could hear Elvis in the background. We felt sad leaving and inquired how we could send money to help this very successful experiment.
Elena let us off at Catherine the Great square. We ate lunch at a colorful and festive restaurant. The servers wore native Ukranian costumes, white with bright embroidery, flower hats. I ordered a cold vegetable/meat soup and Sandi a mixed salad. Sandi enjoyed a chardonnay and I had a Ukranian beer which was one of the best I've had, rivaling Stella Artois.
Afterwards, we window-shopped, looked for an elusive pair of white pumps. One department store we entered was as modern and classy as any in the U.S…but no white pumps, anywhere. We stood, mistakenly, at the opera house waiting for the shuttle bus and decided to walk back to the ship, through a shady park and down the Ptompkin Steps (see below),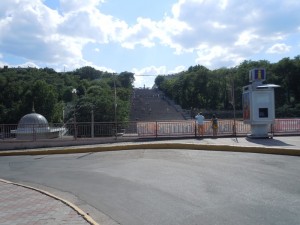 over two hundred with vendors all along the way. Once down, our legs did not shake and we made it back to the ship via a circuitous route that probably violated customs and passport control. Sandi washing clothes in the facilities provided on our floor. On other ships, we would have payed. I helped fold and store them.
At 5:30 p.m., I went to the main lobby to wait for Sandi, wrote in my journal and listened to piano music. Tonight was open seating so we got reservations in the Italian Restaurant onboard, Preggo. The meal was superb. Later we met some southerners who lived in Pasadena and I gave them a copy of the book.
Thursday, June 28
Slept until 9:00. Brief breakfast. Took the shuttle to Prebrozhensky Catherdral, city center, shopped in an open market, brought souvenirs for family and friends, ate lunch al fresco in an upscale restaurant (tuna sandwich and Greek salad).
We enjoyed a five story department mall that had few customers then walked in a traffic-free promenade window shopping. We returned to the cathedral and checked out some paintings eventually settling on a water color we could afford. I had 130 Ukranian money and Sandi had $20, equal to 180 Uk units. The picture we wanted was 480 uk. We couldn't bring her down so settled for a smaller picture of Ptomkin Steps for 320 uk…my 130 plus Sandi's $20 bill.
I waited in the lobby for Sandi for dinner. Some southerners who lived in California offered us some of their champagne. I overheard a discussion about books and the resident author and gave them a copy of Land. We dined with the Sutters in the main dining room. Good interaction.
Friday, June 29
Slept until 9, b'fast in the Bistro. This was a day at sea. We read and caught up on journals, had lunch in the main dining room. Sandi bought a beautiful faux diamond bracelet. The weather was clear except for an early a.m. storm, lightening and thunder and rain, no heavy wind. Received e-mail from George Dent, my attorney, about my publisher. Had good positive e-mails from Meredith and Anna Katherine. I waited for Sandi in the lobby in my usual spot, listened to the usual music. Went to bed looking forward to a revisit with Istanbul.
Saturday, June 30
Up early, 6:30 to watch entry into the Bosphorus from the Black Sea. Numerous ships on the northern side of the strait awaiting entry. No one was in the Palm Court at the front of the ship, all was quiet as the ship slide through the passage and I observed quaint fishing villages, people lined on the shore and piers fishing. Sandi joined me at 7:30 along with a few other passengers. There was heavy morning traffic on the bridges and the old city walls golden in the early morni