Monday, June 18
Departed Tupelo 6:30 a.m. for our long awaited cruise over the Black Sea. Jeff Galloway drove us from Sunshine Inn to Memphis. Our plane left on time for Atlanta. Good connections in Atlanta, had premier seating with very comfortable former first class seats.
Tuesday, June 19
Ten hour flight to Venice where we were met by a Crystal Cruise transfer crew and taken to the Crystal Serenity docked in the Grand Canal. Had to wait four hours to board the ship then another two before we could go to our cabin and collapse from the long journey. We ate dinner at 6:15, Main Seating, at Table #1, a table for two next to a window in a quiet spot.
We met Margaret and Bill Wise from Jackson while waiting to board. She read Land Where My Fathers Died and had complimentary remarks, passed it on to her husband who was equally complimentary later in the trip.
Wednesday, June 20
We slept until 8:30. This a free day and we went ashore by tender to St. Mark's Square, walked around the old town and had lunch at Harry's Bar overlooking the Grand Canal, window-shopped then returned to the ship at 2:30. We have never been that impressed with Venice and on this day tourists were everywhere, clogging the narrow streets and byways. I thought of Gatlinburg in mid-July.
We napped and made dinner 6:15, both of us dressed nicely. One man, a former publisher from Florida, said I was the sharpest dressed he'd ever seen on a cruise. We fell in love with our server Egita and her assistant Carlos. Igor, the matre'd was also a favorite. They all brought us an anniversary cake and sang "Let Me Call You Sweetheart." The cake was to be delivered to our room but never made it. We had left the "do not disturb" light on. A sage erupted about the missing cake. In bed early.
Thursday, June 21
A day at sea. Slept late.  met Kathleen and Jon Sutter, travel agents from Sarasota who would become friends. We took a salsa lesson which was energetic and helpful. Our instructors were the internationally famed team of Aleksandra and Elana from Odessa. I wrote some and Sandi read. After a nap, dinner. It was a formal night and I wore my tux, Sandi elegant in a beaded black dress in her dress sandals. We met the Horns, lovely family from Norway, Nicolette and Hans and her parents from the Bahamas.
Friday, June 22
The Crystal Serenity docked at Katacolon 8:a.m. Ate breakfast in the Lido on 12th level…the usual assorted fruit, cereals, pancakes, bacon, eggs, etc. Our Filipino boys—Nat, Ed, Reggie, Clark and Jonny—spoiled us with service…near the point of being excessive. Offshore we joined with two girls from Spain, Anna and Sheila, and hired a taxi, manned by George, to take us to Olympia, the site of the first Olympics. The thirty minute drive was scenic, landscape punctuated with vineyards and olive orchards.
The ruins of Olympia were magnificent. Much work had gone into restoration which seems now, with the Greek economy, at a standstill. Once where great temples stood honoring Zesus, Hera and other Greek gods there were only isolated pillars, fallen capitals, and Doric columns. The weather was very hot and we walked as much as possible in the shade of trees that grew out of the bare ground and stone. The centerpiece of the visit was the stadium which seated 45,000 people. There were seats only for royalty and everyone else stood.
George returned us to the port and recommended a restaurant by the sea. I ordered sea bass and the waiter took me back into the kitchen, pulled out a drawer from a refrigerator and allowed me to pick my fish. When served, it was better I think than the archtype I had in Lisbon and had been looked to best.
Back on the ship we bathed and napped, had a glass of wine in the main lobby before going to dinner. The pianist played our favorite, Memory from Cats, and did so each evening when we entered the main lobby. All alcohol on the ship, except champagne and fine bottled wines, was complimentary. Lobster was on the menu and the food, as always, was heavenly. There was so much perfect about this ship we could not find fault…except you couldn't was wash your hair in the sink. After dinner we tried out luck in the casino, blew $25 in short time. In bed by 9:00
Saturday, June 23
The ship docked at Mykonos, 8:a.m. sharp. The island reminded us of Santorini.
After making a pact we would not shop for jewelry that is exactly what we did. Sandi saw a ring in one shop we thought too expensive. Winding down another street we stumbled on a small jewelry shop run by Theodor. After some gently haggling, he offered us a deal we couldn't refuse, a gold ring studded with diamonds and matching bracelet. Sandi was elated. His partner even ran down the street and bought me a Greek sailor's hat which, as soon as we left, blew into the sea. I climbed down a steep rocky embankment, Sandi barking at me to stop, and fished it from the shallows. It hangs now on the back of a chair near where I am writing.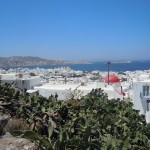 We had much fun walking the streets of Mykonos, shopping, picking up souvenirs. We climbed to the top of the city and took some great photos of windmills and the rooftops below and the sea. We ate lunch in a quaint restaurant, Greek salad and sandwich with Greek beer. Returned to the ship 2:30 p.m., napped, wine in the lobby then dinner in Taste, another restaurant on the ship, with Kathleen and Jon. The good chemistry generated talk and a long evening…in bed at 10:00.
Sunday, June 24
We were up at 7:30 to witness sailing through the Dardenelles. The scene was as I remembered over ten years ago.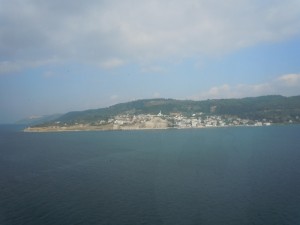 I arrived at Taste where we could eat breakfast and have a good view from the port side. Sandi joined me later. A lecturer pointed out the sites—the lighthouse, monuments to those who died in WWI. The silence was appropriate for the passage. The Turkish countryside was peaceful, the water smooth before we entered the rougher Sea of Mamara. We had lunch in the dining room, napped and prepared for the passage through the Bosphorus. I went to the front of the ship and got us a ringside seat in the Palm Court. We were approaching Istanbul around four o'clock, the Sophia Hagia and Blue Mosque visible on the horn, below them the nipples from the cupolas of Topkapi. The only thing that had changed in ten years were the skyscrapers in the distance. I did not recall their being there in 1999 when we came on a cruise of the Greek Isles.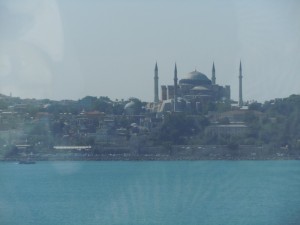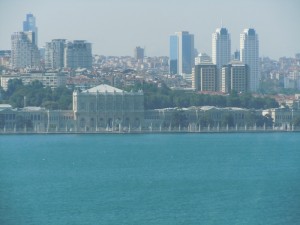 Istanbul is huge, over 12 million, stretching as far as we could see north and south. As we neared, more sites came into view. The lecturer commenced pointing out the various sites, giving history. He pointed out the Dalmasque, which we toured in the earlier trip. The walls of the passage were dotted with castles, palaces, small inlets and villages. At 5:45, we entered the Black Sea, called "black" we were told because of the many storms, ship wrecks and deaths.
Well into the Black Sea, we changed clothes for an informal evening, sat in the main lobby listening to piano music and sipping wine. I gave Nicolette and her family from Norway a copy of Land Where My Fathers Died. Not sure what her husband did, too complicated to explain she said. Her father at table said she was the Martha Steward of Norway. They live in Oslo, a city we must revisit. In bed by 9:00.