Adventure to Africa: Joe Edd and Sandi
September 6 to September 17
HOW TO VIEW THIS BLOG
THE CHRONOLOGY ON THE AFRICAN SAFARI IS REVERSED. THE FIRST DAY IS THE LAST ENTRY SO SCROLL DOWN TO THE  LAST DATE– SUNDAY SEPTEMBER 8 ARUSHA COFFEE LODGE– AND WORK YOUR WAY UP TO THE NEXT DATE WHICH IS BOLDED, THEN DOWNWARD THROUGH THAT DAY AND SO ON. I HAVE BOLDED THE DATES TO ASSIST YOU IN FINDING THOSE ANCHORS. I AM WORKING ON GETTING IT IN CHRONOLOGICAL ORDER. FOR SOME REASON THE VIDEO CLIPS WILL NOT PLAY. WORKING ON THAT, TOO. SOME ARE ABSOLUTELY STUNNING.
In Retrospect
Looking back over this marvelous journey (safari means journey) that began in Arusha, Tanzania at the base of Mt. Kilimanjaro, descended into Ngoragora Crater and swept across the Serengeti to return full cycle at Mt. Kilimanjaro, we are at a loss to name a high point.
Being entertained by Massai native men and women in their traditional garb, dancing and singing and listening to their chief in darkness inside his thatched hut, we thought surely it cannot get better.
But the next day, we crossed a savannah, climbed the rim of the Ngoragora Crater and beheld that awesome depression left from a prehistoric volcanic eruption. Our vocabularies are bankrupt to describe that magnificent panorama. Multiple forms of wildlife captured our senses. We high-fived. "This is it."
The feeling of standing beside Louise Leakey, at the very spot where her grandmother discovered the jawbone of probably the oldest human, was indescribable. Then finding myself, just a few feet from her, a fossil that belonged to a prehistoric human or animal, quadrupled the emotion. We made a note. This was the highlight.
At dawn on Saturday the 14th, we sailed across the Serengeti in a hot-air balloon. I cannot describe the exhilaration, the thrill, the spirituality of it all. But this was not the climax. Driving to a breakfast feast beneath a lone tree on the Serengeti surpassed the balloon ride. And it was not the champagne, but the charm and grace, the humility of our servers, the entire scene cut from a story book and pasted onto the magical Serengeti page. Absolutely, without a doubt, no  competition, this was the climax. We were on the downward slope home with nothing as magnificent looming ahead.
Then, the dream continued. The next morning, we sat in our land cruiser, our driver Arnold poised, waiting, watching one zebra then one wildebeast descend the banks of the Mara River. The crossing was on and we raced to get there, bouncing around like bronco riders on a wild runaway beast, arriving just in time to see the first of the huge herd crossing, coming right at us, snorting and bellowing, water streaming from them, their eyes wild and red as they clamored up the banks galloping around out range cruiser as they rushed, stampeded because that is what it was, a stampede and we were in the middle of it.
So, looking back, considering all of the marvelous experiences, yes, the migration crossing at the Mara was the high point of what we saw. But there were otherhigh points. The people traveling with us, the 23 others from around the U.S.A., our drivers–Comfort, Arnold and others whose names we cannot pronounce but whose gentle guidance we will long remember–and our National Geographic guides, Joe and Simon stand head and shoulders above any guides we've had in the past.
Before this African experience, Sandi and I had long agreed that the trip to Antarctica was our finest and best. That continent was pristine pure, undefiled by human pollution. Then came Africa, the Ngoragora Crater, the Serengetie, the people. This is by far our best journey, our ultimate safari.
On a final sad note, the parts of Africa we saw are not untouched or undefiled. Poaching continues. The rhino is almost extinct. Elephants are endangered. We encourage all who read this to exercise whatever means available to them to help preserve the beautiful animals of Africa and around the world.
A final comment. We did stay in comfortable accommodations. We did see awesome scenery. We did meet and interact with some beautiful people. But…this was NO tourist tour. This was a National Geographic EXPEDITION. It was rough, challenging, at times overwhelming. But it was AFRICA. It was the BEST adventure we've ever had.
Joe Edd Morris
Tuesday, over the Atlantic, September 17, 2013
Monday/Tuesday, September 16/17
We left KIA Lodge at 6:00 for a short drive to Kilimanjaro Airport. Joe escorted us safely into the terminal, goodbyes said. He was an asset to our trip. We went through passport control and waited two hours to board our flight. I slept almost the entire flight to Amsterdam. After disembarkation, went immediately to the gate for our next flight to Atlanta. We had paid for Comfort Seating and given  different seating assignments in Kilimanjaro. A nice attendant made the change for us. We had not eaten. The food on the plane was the worst we had ever encountered. A security guard allowed Sandi and me to leave the seating area, go back througoh security and get something to eat, the same cafe we had used on the Norway trip. As I write, it is 9:05 Amsterdam time and we are ready for takeoff to Atlanta.
Monday, September 16
We got to sleep later, until 6:00 for our last meal together, breakfast at 7:30. Farewells, some emotional, were made.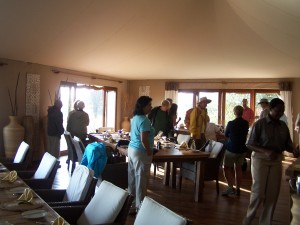 Sandi and I both felt if we did not live so far away, we would return to this idyllic Eden time and time again. It was our favorite among the places we stayed. We awakened to wildebeast, gazelles, and zebras just yards from our front porch. Hyenas hooted at night behind our tent.
On our way to the regional airport where we would be flown to Arusha, Arnold was out driver again.
The sunrise was stunning, weather pleasantly cool.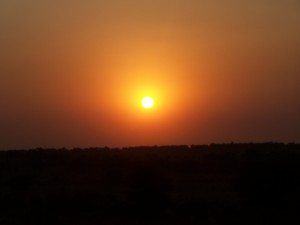 On the way to the airport, he gave us a final safari along the shores of the Mara River. We saw huge crocodiles sunbathing,
a few hippos, giraffes,zebras, gazelles, eland and impalas.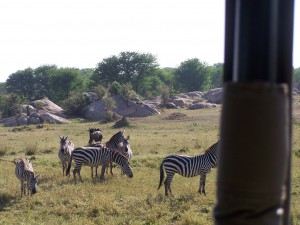 Arnold informed us that the palm trees we kept seeing along the river were brought by the elephants from the coast.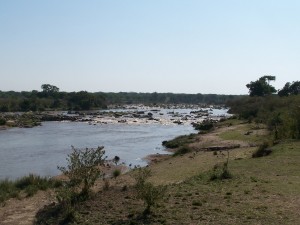 A new bird was spotted, a Goliath heron along with three more crocs. Arnold said the crocs eat only once a year, usually wildebeest. Birds we'd seen before, Egyptian geese, were hanging out near a croc just below them. Crocs don't eat birds. I saw a small colorful bird on a sapling near the range cruiser. A little bee eater, Arnold shouted to us.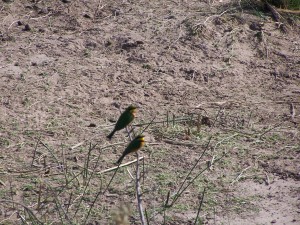 Nearby, vultures, many of them, were feeding and/or vigilant.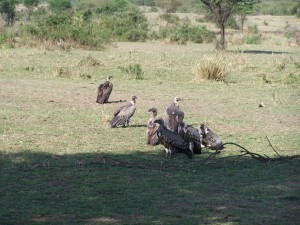 An eland sprinted spryly, gracefully, in front of us.
We came upon a family of giraffes.
We arrived at the airport 10:00. Numerous safari vehicles were unloading their occupants to take planes to other destinations.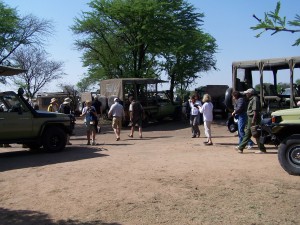 We bid farewell to our new friends who were going on to Kenya. Also gave an emotional farewell to Simon, one of our National Geo guides.
We boarded a twin prop for an hour flight to Arusha. Simon gave Sandi and me a small bag with our lunch. On the side of the bag it said "NO GARLIC." These folks go the nth degree to ensure we have a good time. Sandi sat in front of me in a short row of single seats. As the plane left the runway and ascended, we could see our dream camp in the distance.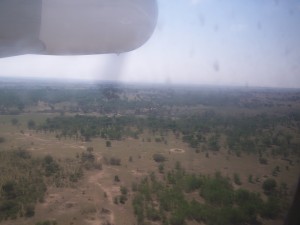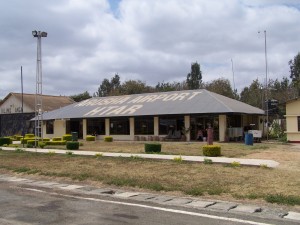 Once in Arusha, we spent a couple of hours at the Cultural Heritage Center, where a few days earlier we had bought tanzanite. After lunch and some shopping, we boarded our safari vehicle for an hour drive to the KIA Lodge where the staff had arranged a day room for us until we left at 6:00 for the airport and our long trip home. Mt. Kilimanjaro was ever present.
Sunday, September 15
We were up at 5:00 for a morning safari. The Serengeti at dawn is beautiful. This dawn was particularly prophetic in its beauty. Before the day was over, we would see all of the Big 5: Cape Buffalo, lion, leopard, hippo and rhino.
The sun was rising and the photos below say it all. We noted how fast it was ascending above the horizon and Joe said we are almost on the equator and it is rising at over 1000 mph. Within minutes it was well on its way to noon.
We got some great photos. The first sighting was a family of hyenas. Joe explained that the female was dominant, picks her mate, then after mating runs him off.
Next, a dwarf antelope and clip springer atop a rock.
They are antelopes who like to live and travel among the rocks. We watched his nimble movements from rock to rock. The video above captured some of their movements.
Surprise: a male leopard with 2 cubs. We had a good view of the leopard but never saw the cubs. Our driver positioned our vehicle for good photo shots.
We stopped to observe a leopard in the shade on a rock. You have to look closely, as we did. Not far away were two lionesses.
The rest was high drama. One of the lionesses began sauntering in the direction of the leopard. Soon, we saw the large bushy tree shake, a dark form scampering through its foilage, and the leopard's face emerge from the top of the tree.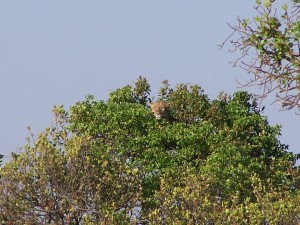 Joe was amazed, had seen nothing like it, not just the drama, but a leopard going that high in a tree. Adding to the drama, were vultures perched atop a nearby tree watching the show, probably awaiting dinner.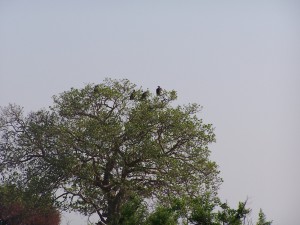 By this time, everyone needed a pit stop. Our driver angled off the road to a large termite mound for a pit stop.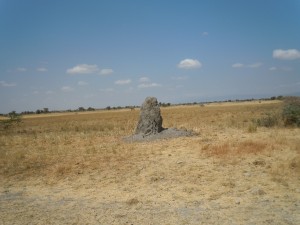 The termite mound above is not the one where we stopped. It was three times this size with a bush growing out of it. But something about these termite mounds which were everywhere. Some were small and some  6/7 feet tall. Joe said he'd seen them as high as 20 feet. The colony, in the thousands, has one queen. When she dies a sister queen takes over. They run the show. What we see above the ground is only 1/3 of an intricate network that defies imagination. Google African Termite for the full story.
After out pit stop, we drove to a vantage point overlooking the Mara River and thousands of wildebeast and zebras still amassed on the other side, still waiting for the first one to cross. A family of elephants were in the mix, adding to the excitement.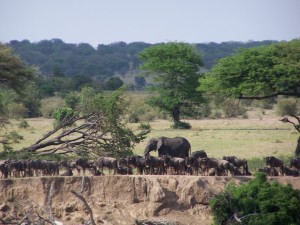 They had been poised like this for at least two days, perhaps longer. With our binoculars, we saw a lone zebra come down the bank, followed by one wildebeast.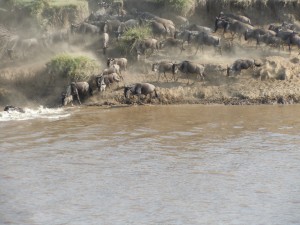 Our drive turned around and said, "Hold on!" Sandi and I were sitting on the raised back seats in this 6 person vehicle, not counting the driver and guide up front. What happened next was a dash across bumpy, rocky, curving tire-trail toward the river. I had not put on my seat belt so I could position for good photo shots. Nor had Sandi. Kito, our driver, made a dash for the river. It is a miracle we were not tossed backwards or sideways from the vehicle. I've never ridden a bucking bronco or bull but have an idea what it would be like. Thousands of wildebeast and zebras began streaming across the river.
Kito pulled up at the point they were emerging. We could see the water falling off their backs, their wild eyes, smell their odor. We were that close to what most Africans, not to mention others in the world, would give their eye-teeth to see…a migration river crossing. The scene was stunning. I flipped the camera onto video mode. Wildebeasts and zebras were coming right at my lens.
These were not the only actors in this drama. Hippos were in the river on both sides of the crossing. A crane sat atop a rock they were swimming around. The same vultures mentioned earlier had moved closer.
Joe said he'd seen several crossings before, but this was the most spectacular. We were absolutely right on top of it. We gave credit to our driver and posed with him for pictures back at camp.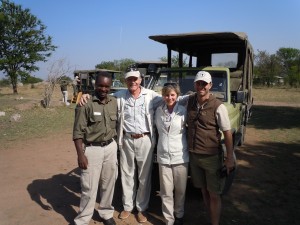 Joe told us were were fortunate, that people around the world come to this area to see a migration crossing, sit for days waiting for the first animal to take the first step and after a week go home empty-handed. We waited 5 minutes.
We had left the camp at 6:00. It was a little after 9:00 and we headed toward camp where we were served a scrumptous breakfast. Others, in other vehicles, had made it to the crossing, but we were the first.
After breakfast, we had free time until lunch and after lunch launched another safari. Arnold went to a different place. He said rhino were known to be there. He had the eyes of an eagle. Soon, he stopped and pointed. "Rhino!" Not one, but two, a mother and her calf.
But voila, there was another nearby almost hidden in the foliage, the brother, according to Arnold, of the calf. The female was making her way with her calf to the brother of the calf.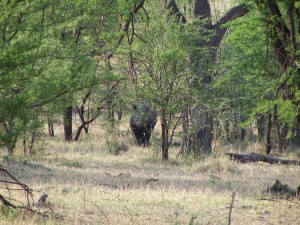 Everyone in the vehicle symbolically high-fived. We had seen the top 5 in one day, something most never accomplish according to Arnold and our other guides.
That evening around the campfire, we did have tales to tell.  But a certain sadness pervaded the night air. We were leaving Eden the next day. In commemoration of our accomplishments and our departing, our servers put on a show with African dance and song.
After the celebration, one of the escorts walked with Sandi and me to our tent. He had a flashlight in one hand and a flimsy looking bow with a couple of arrows in the other.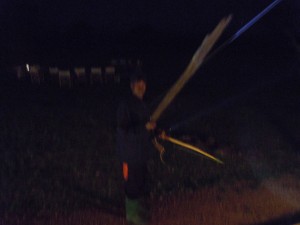 None of this was ceremonial and I hoped the ole boy didn't need to use his weapon.
September 14, Saturday
We were up at 3:30 a.m. for the dawn balloon ride across a part of the Serengeti. Temperature cold. We wore our fleece sweaters and I had cloth gloves and a skier's ear cover. On the way, in the African morning darkness, we saw an African fox, hyenas, gazelles and rabbits.
We arrived at the lift off spot. Two large baskets lay on the ground, the balloons stretched beyond them on the ground. Men were already blowing them up.
We met Nick, our pilot. He was wearing his customary Serengeti Balloon Ride uniform, complete with a tie covered by giraffe images. He was a bit of a showman, but we liked him and he gave good information.
He showed (demonstrated) how we were to enter our compartments (16 to a balloon) by sliding in lying down, our heads out. It was a weird feeling being supine as Nick fired the balloon, his hands on handles and moving the flame around like he was behind a machine gun. The first two tries failed, but success on the third as our basket uprighted and we watched the ground fade away behind us as the wind blew us westward. We were then told we could stand. Some who have sailed in a hot air balloon know you are buckled in with a belt long enough to allow movement for photo taking.
After we were in the air, Nick told us he had little control over our flight direction but we followed the Mara river. From about 300 feet up (I took videos which may be available on the blog but can certainly be sent upon request) we immediately saw a lone jackal running beneath us followed by a giraffe family.
100_3699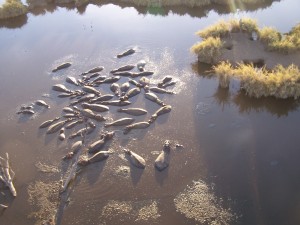 We passed over a the largest group of hippos we had seen.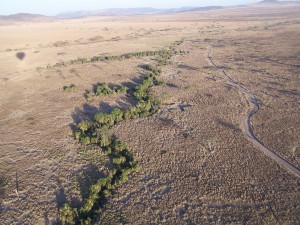 The scenery all around was spectacular and the only sound, that of the wind whistling. An interesting sight was the shadow of our balloon from the rising sun.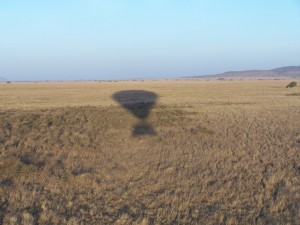 We scraped the tops of a few trees, skirted the ground but never reached high altitude of over 1000 feet due to the wind.
The ride lasted about an hour. We bumped three of four times on the ground and the deflating balloon pulled us to a stop. This time we climbed out upright. Some of our African guides had set up a table with champagne. Nick gave the history of why we were drinking champagne, that the first balloon flight (flown by Frenchmen) ended with a champagne celebration.
Following our landing celebration, we were driver to a site beneath one tree that, despite no leaves, the arabesque of limbs provided shade. Tables were set with white linen and servers, dressed in white with white turbans and gold sashes, stood at attention awaiting us.
The food, an English breakfast (scrambled eggs, bacon, sausage, baked beans, toast) was served piping hot with champagne and coffee. The servers exhibited an aplomb appropriate for a royalty.
After the breakfast feast, we were driven to a small airstrip, boarded a single prop and flown to the Seronere Regional Airport for the next leg of the safari.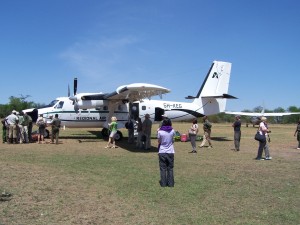 We flew over the Mara River and saw much of the migration, thousands of wildebeast and zebras amassed along one side, poised to cross. As we neared the regional airport at 10:45 a.m., more trees appeared and the land was greener. Joe, one of our National Geographic guides, explained that the animals had been confused by recent rainfall, reversed their direction, then reversed again and on their customary course.James, our driver, took us and the others to a visitors center where we used the toilet and hooked up with one of our National Geographic drivers who took us to the Seronere Airport. We boarded a small prop plane that held 12 people. The 30 minute ride was bumpy but we were able to see, on the ground, much of the wildebeast and zebra migration. From the air, the Serengeti Plain looks dry and scrubby dotted by scattered acacia trees and old meandering rivers. The land was a patchwork of different colors. In places, the land was a faded green surrounded by the light desert brown with red soil evidencing iron oxide from ancient volcanic eruptions. Along the rivers, the green was deeper and more pronounced. Mountains in the distance were shrouded in mists.
Sandi had cell connection on the plane then, strangely, lost it when we landed. We were picked up at the airport by several drivers from the tent lodge where we would be staying two nights. On the way, we saw a pride of lions on a creek sandbank.
Our driver also pointed out a bush hyena and rock agama lizard with multiple colors and
We took more time with a two lionesses, one  atop a rock and the other below.
We arrived in the Sayari Camp around noon, were given a briefing by Kathryn and Ross, the managers of the camp. The upscale tents, with wooden floors, showers, toilet, electricity and wi-fi, stretched either side of the dining room and main social room. We were in #5.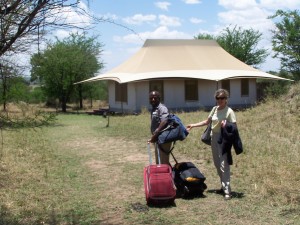 100_3754 Panoramic sweep of our tent
Anytime anyone wanted to leave their unit to come to go anywhere within the compound, they had to use a walkie talkie in the room and call for an escort. Lions had been in the area and walking alone was dangerous.
At 4:00, we went on safari. Again, we saw the wildebeasts stacked up against the Mara River bank. Our guide said they were like lemmings, waiting for the first to enter, the first who had courage to brave the crocodile infested river. This is important as you will see later.
100_3856 video of wildebeast and zebras prior to crossing
100_3774 same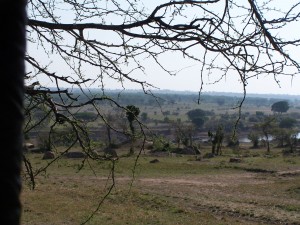 We also saw a Maribou stork, another pride of lions. They had just eaten (full stomachs visible) and were napping.
Red-eyed doves and vultures were plentiful. I saw movement in the muddy water of the stream and asked the cause. Our guide said, "Catfish." He gave them a name I didn't catch but when the creek dries up in summer, they can walk to another water hole. Or, they bury themselves in the mud. They have lungs and can breath buried in the mud and remain there for as long as 6 months until rain returns and the creek runs again.
We also saw impalas,
another African Leopard which completed our sightings of the Big Five: Elephant, Hippo, Rhino, male lion, and the leopard.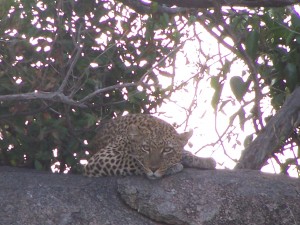 Our guide pointed out a yellow-billed stork, "the one who brings the babies," he joked.
The safari concluded on the banks of the Mara with drinks set up by the camp staff.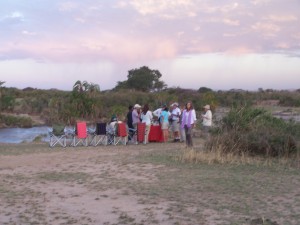 That evening, during sunset and after,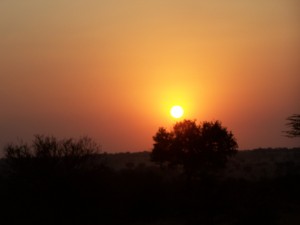 we sat around a campfire and reflected on the days events then dined al fresco. The weather was cool enough for sweaters. There is no pollution on the Serengeti so the moon and stars shine brighter than ever.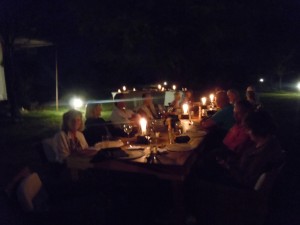 Friday, September 13
We got up 4:45 a.m. I went to the lobby 5:15 to check out and secure our truck and driver, get our backpacks in seats. Success. Comfort arrived at 6:00. Ate breakfast. The temperature was cool with slight breezes, clear bespangled skies before dawn. We drove to the Oldevai and on the way saw a family of giraffes. The baby is easily seen next to its mother.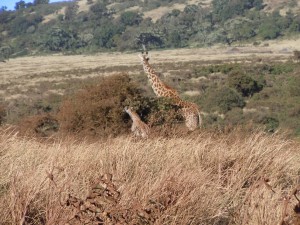 The  scenery was drop-dead gorgeous.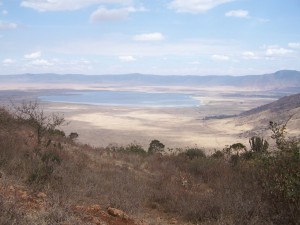 We connected with Louise Leaky at the Oldevai Gorge location where her grandmother discovered the jaw of a hominid or early human dating back millions of years.
She gave a brief talk on the spot of the discovery. She said if people take fossils out of context, they are meaningless. This caused me to reflect on scripture. The same principle applies. When we take scripture out of context, it is meaningless. Millions of years ago, volcanic ash covered this area trapping early humans and animals. Three different specie of humans were discovered in 1059, 1960-61, and 1971. Mary Leaky found the jawbone of the first human to stand erect and walk around: homo erectus.
From there, we took a short drive to a museum and souvenir shop. Sandi took a picture of me with the curator.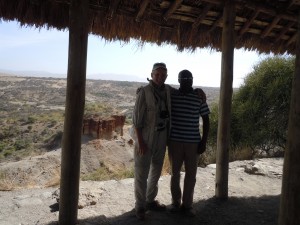 The roads all over were gravel and dirt, wash-boarded, very jarring. I put in my ear plugs so I could hear conversation within the safari vehicle.
We departed the Ngoragora National Park and entered the Serengeti National Park.
We were delayed at the check point almost thirty minutes which allowed time to climb a tall hill and get some great photos of the Serengeti. It is virtually without trees because a westward wind blew the volcanic ash in that direction and killed most vegetation.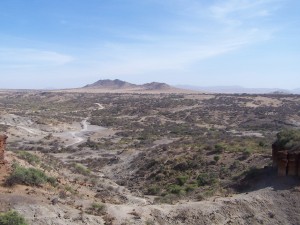 Once inside the park, we saw numerous outcrops, stacks of rocks that were the result of lava upheavel, pushing up chunks of hot lava that cooled and has weathered over time.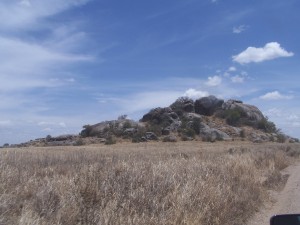 We stopped at one of the rock outcrops for box lunch and a brief lecture then continued.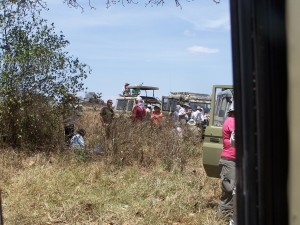 On the way to our evening lodge, we saw numerous animals: giraffe, eland, buffalo, yellow-throated long claw (bird), families of elephants, and one lone old and ill elephant by the road who posed for us.
Thursday, September 12
Up 5:00 a.m. Problems with one of our cameras that were eventually solved. Departed 6:00 for the crater hoping to see more lions and perhaps a leopard. The weather was cool and foggy with clouds hovering around the crater rim. We spotted a jackal.
Also a herd of buffalo, 3 lions on a hillside and 3 zebras scratching on a rock. We spotted a black back jackal, golden jackal, superb starling, also a family of giraffes.
Elephants were also in the area. Elephants drink about 60 liters of water daily.
At 9:00, we stopped for a picnic breakfast at a hippo pool.
We saw about 8 hyenas tracking some wildebeast and a pride of lions. (still in search of those pics)
That evening at the lodge, before dinner, Louise Leaky gave a very informative lecture on the work of her family and her current projects.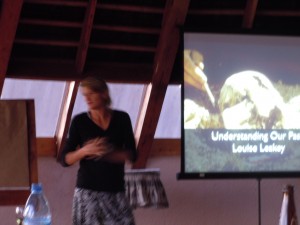 Wednesday, September 11
Departed lodge 8:30 a.m., drove to Ngoragora Conservation Area. At the entrance to the national park, a baboon was running loose in the parking lot looking for food.
We took a group picture with Comfort, our driver. Many safari vehicles were parked outside the entrance awaiting clearance for passage. We had to wait 30 minutes for red tape to clear us. We drove up the outer crater wall to an elevation of about 7,000 feet. Once atop, we got a fabulous panoramic view of the crater that was formed 20 million years ago when a huge volcano erupted then collapsed.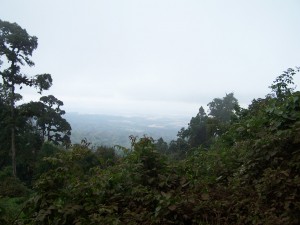 Distant view of Ngoragora Crater
Our first destination was to a camp used by groups who prefer roughing it. In one of the large tents, we met Chief Oledorup dressed in his native cloak and carrying a long wooden staff, a frequent image. Artifacts made by members of his tribe–bracelets, necklaces, decorative polished rocks–were arranged on a long table for viewing and purchasing.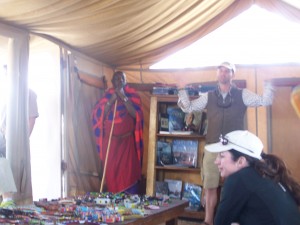 There are 126 different Massai tribes with different languages and cultures. They migrated from south Sudan and were called Nile herders, nomads. Some move around today but, according to Chief Oledorup's lecture (he was very articulate in English), most are closer to establishing permanent homes in the Ngoragora Reservation, not dissimilar to the destiny of native Americans. They are not allowed in the Serengeti Park. They follow the seasons looking for pasture for their herds of cows and goats and live in compounds called Bomas with their large extensive families. Within the Bomas are corrals fenced with dead wood–acacia and cedar–to protect their livestock from lions, leopards and hyenas.
For 40 years, the children did not go to school due to fear of losing their culture. Now, Chief Oledorup says they go to school and balance education with their unique culture. Education is important, he says.
The men have more than one wife. Chief Oledorup has three. Some have as many as five or ten. "We need to have lots of children," the Chief says, "to help tend the livestock and other duties. We saw small children, probably 7-12 years old, shepherding small herds, all carrying slender staffs and wearing the Massai red cloak. There is no divorce, he said. Couples can separate but divorce is not an option. The children belong to the father along with all other possessions. I raised a question, that all he was telling us was very similar to the ancient Hebrews and was he aware of any connection. He said he was not. But one of our guides said that the cultures of the Fertile Crescent trickled down into Africa along the Nile River.
The chief says they fear losing their polygamistic culture and asked us what we thought. One in our group, Thom, said "I've never tried it," which evoked laughter from the chief. Someone asked him about God, what he thought about religion. He said, "That's a good question. Among the Massai are Christians and Muslims. We believe in God. There is one God for everybody in the world. Massai believe we call God "She" or "Big Mama and we have more respect for women. We have a second god, women. There is no life without women. The color of the female God is blue, for the heavens. At this point, we followed him down a narrow trail to a clearing where there were two pots over a smoldering fire not far from them several pieces of meat on sticks stuck in the ground over another smoldering fire.
I won't go into details, but several tribesmen were brewing a type of soup from the liver, heart, intestines, and stomach of a recently slain sheep. These were cooked in an herb concoction that included roots of the acacia. The soup cures malaria, arthritis, joint pain.Needless to say, our appetites were obliterated for lunch to follow.
After this demonstration, and as were were collecting to leave, tribesmen and women sang and danced for us. The presentation was stirring and captivating. We were impressed.
Following the tribal dance the chief led us to his Boma or compound. Children, flies all over them and around their mouths, ran out to meet us.
We were upset with the flies but the chief said that as they get older they learn hygiene and how to keep the flies away. We were concerned about damage done in the meantime. The huts in the background are made of clay and animal dung with thatched roofs. Only small shafts of light shine through very small windows made of plastic. The chief said the darkness was to keep away the flies. After a few minutes, their eyes adjust to the dark and they can see. We were able to experience this. Several at a time entered the chief's hut. We sat where we could feel a place to sit because upon entering the place was pitch dark. A small fire of coals, no flame, burned in the center of the hut. One of the chief's wife was sitting in a corner but we did not see her until our eyes had somewhat adjusted to the dark. Sandi and I sat on the chief's bed, a piece of leather stretched over a raised mound of earth.
Following our visit with the chief and his tribe, we crossed a savnanah of tall grass and scattered acacia trees and saw herds of cattle and goats shepherded by Masaai men and boys caring tall staffs. We stopped to take a photo of one boy. Curtis gave him a dollar.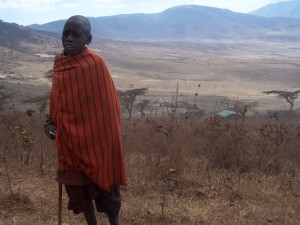 We descended switchbacking into the Ngoragora Crater on a dirt road and saw several bomas or compounds on the way.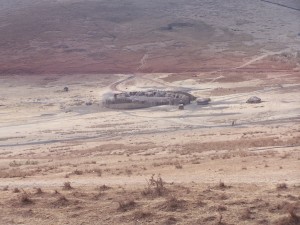 Once in the crater we saw Thompson and Grant gazelles, wart hogs, buffalo, zebras, the golden jackal and hare. Ostriches and flamingos were prominent along with the brown-billed crane (the national bird of Uganda), the ever-present wildebeest, hyena, lions, cape buffalo and one black rhino we could see only from a distance.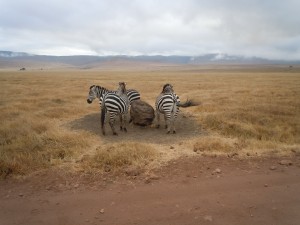 Our tour of the day terminated at the Sopa Lodge, a very upscale hotel in the bush with a mammoth lobby, tall windows and massive round fireplace.
It was a long walk to our room and there were no phones or televisions in the rooms. Our room, along with others, afforded a panoramic view of the crater, awesome.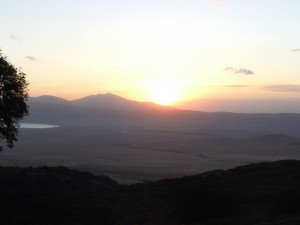 Monkeys played on our balcony and one, when our backs were turned, entered out room and had his hand down my backpack before I could shoo him outside. Sandi wanted a picture…yeah…with him carrying off a belonging.
We dined that evening in a plush dining area with our group. Fell into bed at 9:00.
Tuesday September 10
Up early, 5:30, breakfast then off, over the same route of the previous afternoon, to Lake Manyara. We traversed the same route from yesterday but covered a different part of this small, but amply populated with wild life. We saw the baboons again, more than the day before,
along with a plain filled with zebras, wildebeast, and buffalo, the later one of the Big 5.
We came upon a hippopotamus in a small canal, then saw another later on the wide plain but at a distance.
The hit of the morning, after almost giving up, was a family of elephants. They were near the road and we got close up views and photos. I turned the camera on to video and have some good action shots.
Though important on our agenda, the elephants were upstaged by the next sight, a vervet or blue-balled monkey. No further comments.
We returned to the lodge for lunch at 12:30, then a long afternoon lap. Upon awakening, we felt drugged and went back to sleep finally getting up at 4:30. I went to the main lodge to try and deposit photos into the blog but without success. I will try again tomorrow.
Monday, September 9
Departed Arusha 9:00 sharp after breakfast and first team meeting–25 of us, one of National Geo's larger groups, very diverse. We've formed a group of six with Janice, Curtis and a couple, Thom and Stephanie, Canadians who live in Seattle. The weather was cool, actually chilly in the a.m.
Destination: Lake Manyara and Manjara National Park. Skies were cloudy but we could see Mt. Kilimanjaro looming behind us, blotting out the sky. It is 18,000 feet plus, huge. Along the way we saw scenes we had seen previously and would see again: corrugated-roofed shacks that served as homes and shops, outdoor Laundromats, cantinas, bars, garish signs with the latter.
Occasionally, we saw schools, a few private but most government. The highway would change from paved, to unpaved dirversion roads to paved and neatly trimmed with white center and side lines. To get to our digs for the night, a coffee plantation, we actually drove over a rutted dirt road that reminded me of logging trails. But more on that later.
We passed fields of maize (corn), coffee, an occasional petro station. The landscape was not unlike that of central Texas or northern Arizona, New Mexico, barren, rocky with eroded gulleys, desert-like. Naked hills with little vegetation.
Men in red cloaks, the sign of the Masai male, and women in dark blue scarves and dresses walked the roadsides. Our guide, Comfort, told us the women wore blue because their main god was female and blue was the color of the sky. He also told us the women did most of the work, confirmed by the many scenes along the way.
Most of the men and boys carried sticks for herding the many cows, goats, and sheep grazing on what grass they could find. In some cases, they were being herded to markets. We also passed the Monday a.m. Masai market, women with baskets of vegetables and fruit laid out on blankets just off the road. Young boys and men pulled hand carts, often empty but sometimes filled with mixed items they were probably taking to the market. Women and young girls balanced loads of up to 20 kilograms on their heads. (If a man had 30 cows, he could have one wife and multiply his wives as his herds grew.)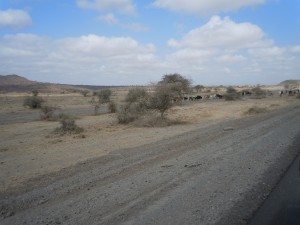 At noon, we stopped at a cluster of picnic tables beneath a group of acacia trees in Manjara National Park and enjoyed a packed lunch, that included wine. The food was different, but tasty and nourishing. We drank little wine, otherwise, instant nap in the increasing temperature. By this time, if we stood in sunlight, it was very hot. We sought comfort in our vehicle or in shade.
In the park, our open-air safari vehicle driving over dirt roads,
we saw numerous specie of wildlife: Impalas ( a type of antelope),
velvet black-faced monkeys,
baboons (many of those),
mother and baby
Wart hogs
wildebeasts
zebras
We saw part of one elephant, but not enough to get a picture. We go back tomorrow to try again. We also saw no cats, but will try again.
Approaching Lake Manyara, we saw the rare event of two giraffes fighting. This is a conflict in slow motion. They stand still, shift their posture and fight with their necks.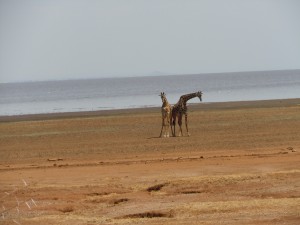 Birds included moon birds, shirkes, kites, guineas, woodpeckers, vultures and eagles. With the motor off, we could hear the sound of bees from the trees.
Plants included eualyptus trees, the acacia and balboa (already mentioned).
At the village of Karatu, more upscale than the others we saw along the way, we glimpsed a sign that said Mrs Obama Gift Shop. Also saw a shop with a sign that said Mississippi Butcher. Hmmmm.
Comfort veered off the macadam onto a rutted dirt road, a very bumpy ride that took us to…suddenly, from nowhere…this elegant and luxurious coffee plantation. I mean, "out of nowhere."
We checked in, got our room keys (ours was called Avocado) and servants brought our luggage to our door. Sandi showered and changed clothes. I was too tired. We had a glass of wine brought their  charming lounge, attended a reception with snacks and drinks, listened (Or tried. Sandi and I both fought sleep during the presentation) to a one hour lecture, had dinner in a very nice dining room then collapsed in bed.
Sunday, September 8, Arusha Coffee Lodge
Up 8:00, solid delicious breakfast in the lodge dining room. Weather in the 60's, cool with intermittent breezes. The maitre d, arranged a 4 hour tour of Arusha which included the famous Cultural Heritage Museum, the largest in Africa.
The piece on the right took over ten years to carve from one piece of ivory.
Viewing all of its photos, exhibits, handicraft, sculptures reminded us of the Goggenheim in New York City.
The highlight was a visit to the tanzanite jewel shop of Safi Khanbhai, world renown for his tanzanite collection and regular customers who include Bill Clinton and George Strait. And, yes, we bought a dynamite deep blue stone for Sandi. He did not give us a deal but it was a bargain purchase. He is reponsible for the Cultural Heritage Museum and a cluster of souvenir shops within the compound.
We did most of our shopping for grandkids there. Our driver, Arnold, 22 year old very polite gentlemen was our driver and next took us through the streets of Arusha that reminded me of streets in small Mexican towns: make-shift shops, outdoor furniture factories, clothing of all kinds laid out for sale, bicycles and motorcycle taxis (the riders must provide their own helmut). Arnold took us to a nice restaurant closer to the center of this city of a million where we had chicken soup and shrimp cocktail. Tanzanian beers (Kilmingaro  and Serengeti) are some of the best I've had.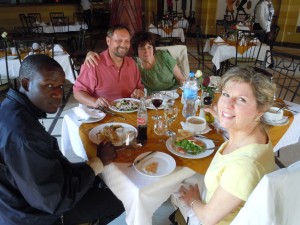 We arrived back at our lodge to find a friend of Kenneth Williams (Corinth mountain climber and runner), Charles James, waiting for us.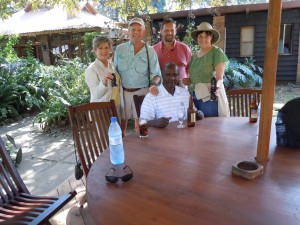 He had been waiting four hours. He was not going to miss seeing us. We were touched and impressed. He is a Mt. Kilmingaro climbing guide and was Kenneth's guide several years ago. He spent an hour visiting with this exciting man who has just started his own adventure business, The Malisha Adventure. He will take you up Kilmingaro or on safari for a very reasonable fee, I mean reasonable. Anyone thinking of going on safari to Africa should check him out first (www.kilimalisa.com). After a nap we went for social time and dinner in the lodge's dining room. We ate with our new friends from Seattle. Jo Anderson, our National Geographic leader, dropped by the restaurant and gave us some valuable information about the beginning of the safari. We went to bed at midnight. Fantastic day and we're not even started on safari.
Friday, September 6:
With little night's sleep, due to anxiety and anticipation, Curtis and Janice Trawick, friends and neighbors, picked us up at 9:00. Weather excellent, mild. We drove to Myrtle, MS to the Sunshine Inn where good friend Jeff Galloway drove us to Memphis International Airport. Arrived 11:00 a.m.
Problems boarding. We have only carryons for the trip, but JE's cannot fit the overhead. His carryon, if not adjusted, had to be tagged and sent as checked lugage to Kilimanjaro. A flight attendant helped him empty part of his carryon into a plastic bag. Everything okay. Short flight to Atlanta. Unable to secure comfort seats from Amsterdam to Kilimanjaro. Had a glass of wine at a seafood restaurant and boarded Flight Delta 238 for Amsterdam in comfortable priority seats. The flight was about 8 hours. Our seats were supposed to be Comfort Seats but were not very comfortable. Sandi got queezy but felt better when she could get off the plane.
In Atlanta, all luggage fit. Arrived Amsterdam 8:30 a.m., immediately found our gate for KLM flight to Kilimanjaro, went through security (they do security checks at the gate at Schipol International Airport).
Long 9 hour flight to Kilimanjaro. Our economy seats were more comfortable than the premier seats which cost us extra on the flight over. We slept off and on. KLM has it over Delta, service and food superior.
Arrived Kilimanjaro at 8:30 p.m. their time. The airport is small. Only one other jet there. Climbed down steps out of the plant. We got in line to purchase our visa's ($100 per), much cheaper than if we'd gotten them in U.S.A. Every Tanzanian we met was friendly and helpful. Our transfer was standing outside customs holding a sign with our name on it. His name is "Comfort," and he is every bit his name. If our "Comfort" seats were not comfortable, he made up for it. He is tall, lanky, head shaven and exceptionally friendly with a constant bright smile. Besides the two of us, Curtis and Janice Trawick, another couple, Tom and Stephanie from Seattle, were also passengers on the one hour ride to Arusha and the Arusha Coffee Lodge.
The  most interesting aspect of the long night drive was Comfort's running monologue in his Swahiilian tongue about his country, its culture, politics and people. The Saturday night was festive. We passed strings of outdoor cafes festooned with lights, shops, cantinas, small hotels. People sitting out having drinks and conversation, watching the traffic on the pot-holed road punctuated with traffic bumps that Comfort called "silent policemen." Tanzania was heavily influenced by the British. Besides Swahili, English is the other language. People here drive on the left. At times, in the dark with bright lights glaring down on us we thought we were going to have a head-on.
When Comfort turned into the Arusha Coffee Lodge, we were expecting something more urban and upscale. After all, Arusha's population is one million. But we entered the  front gates, unlocked and swung open by a small black man, and drove into an actual plantation that seemed a hundred years back in time. Comfort dropped us off at the main lodge where we checked in, got our single key and were escorted to our bungalow by two young girls who balanced our luggage on their heads. The pictures below give some idea of our Arusha digs.
Yes, netting around the bed. The mosquitoes are not that bad this time of year but they have not sprayed and the netting was necessary we were told.
We returned to the bistro where we joined our friends from Tupelo and Seattle, had some wine and excellent food before retiring to our special cottage, framed in dark interior and beams. Awaiting us were two roses and on the long marbled bathroom counter, two rose leaves and a petal as a gesture of welcome. Finally, after a long-awaiting shower, we collapsed in bed at 1:00 a.m. Around 4:00 a.m., I was awakened by  the surreal sound of chants from the night. We had arrived in Africa.