On Friday the 13th, Sandi and I had one of those rare, lucky moments. Following dinner at Trattoria Del Arte with my literary agent, Linda Langton, we crossed 7th Avenue and attended a concert at Carnegie Hall. Our dear friend, Alexander Markov, arguably the greatest violinist of this generation, performed with the Shattered Glass Ensemble. Both, individually and together, were outstanding in a presentation of "From Baroque to Paganini."
Thundering applauses and cheers followed each piece.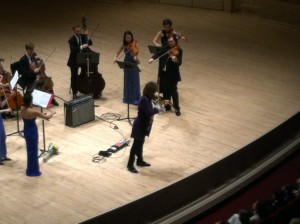 Afterwards, we went backstage (Alex had placed our name on the "Back-stage List") to congratulate him, meet some of his family and friends.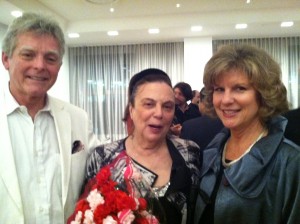 Alex's mother, a charming lady and celebrated musician in her own right
But the magic didn't end with the back-stage hoopla. The next morning, as Sandi leaned over to check the time, she noticed she had a text from Alex inviting us to breakfast at his flat over the Russian Tea Room. We were there promptly at 9:30, met Alex's girlfriend, Tara, (also a violinist) from Utah and a couple from Seattle, Pete and Yumi who have been fans of Alex longer than we. Over scrambled eggs, pastries and fruit, Alex regaled us with tales from his musical past, and present, along with plans for the future. We look forward to seeing him in Tupelo in February, 2015.
But wait, there's more. We visited the Mississippi crowed in Central Park at "Way Up North in Mississippi"
then joined Linda Langton, my agent, for a personal guided tour through the park with her dog, Princess.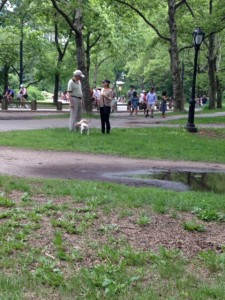 We ate a small lunch al fresco at a small cafe in the park before sadly having to say farewell.