Sandi and I recently returned from a marvelous and scenic cruise to Oslo and the fjords of Norway. We spent the first two days, July 18-20, in Amsterdam visiting the Rijk's Museum which has been closed over ten years. We found the Van Gogh Museum more impressive. On the third day, we boarded a Holland America ship in Rotterdam and sailed for Oslo. The highlight there was a visit to the Ice Bar. Everything was made of ice, including the glasses which help champagne. Beer would freeze, the server said. We didn't stay long. It was a cool experience.
The picture to the far right is me standing outside the Ice Bar. In the one immediately to the left Sandi is slightly blurred because I was shaking when I took the picture. It was coooooold.
Day 4
At sea. Relaxed and read. We were accompanied by Drs. Gerald and Julie Walton and her brother Dr. Will Hart. Each evening we gathered at the Crow's Nest for drinks then ate in the dining room open seating. The food was fine but we have had better on other cruises.
Gerald and Julie are to the far left and Will on the far right.
Jerry and Julie Walton
Day 5
The ship docked at Kristiansand, Norway. The weather was clear, about 63 degrees F and stayed like this the entire cruise. We took no excursions and strolled around the quaint fishing town, actually a city. We entered a small cathedral and listened to organ music. Sandi and I found an uncrowded restaurant and had a great meal. That evening after dinner we played $10 on the slots in the casino, danced and went to bed around 9:30. The sun had still not set. I saw a chip of moon. Later that evening, I got up, around 3:00 a.m. and say, not a chip of moon but a full moon. This couldn't be. I was looking at the sun.
Day 6
We had breakfast in our room, too much food. I needed a Jo blade to cut through the sunnyside up eggs on toast. We strolled around Stavanger, had coffee and coke then a great meal. We were able to use our Macs. We were back on the ship at 2:30. The ship departed Stavanger at 3:00 p.m. for a scenic cruise through the Lysefiord. Beautiful scenery. Dinner at 6:30. We always dressed a bit. Sandi was stunning each night. We danced, played the slots then shopped. Sandi bought something she'd been looking for, a gold-plated chain, on sale.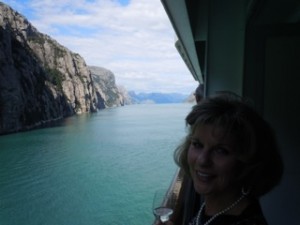 Above, the fjord of Stavanger and a familiar face
Day 7
We were up at 6:45 and I was able to get the last two tickets for the legendary trainride to Flam, a small village at the end of a very long fjord, population, 500. The train did not leave until 1:30, so we strolled through the small village and were reminded of Gatlinburg. At a fashionable hotel, with comfortable leather seats, we had coffee and Norwegian beer, lunch. The train ride was a big disappointment. The scenery was spectacular but the train was very crowded and I couldn't take good pictures. I would get focused on a waterfall and the train would enter a tunnel. At the end, we had to wait 1 1/2 hour at an old hotel. We were able to get a glass of wine. The trip back was some better, not as crowded.
Below are some of the better photos of Flam.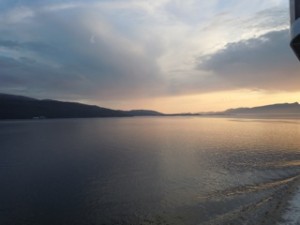 The evening was formal. Sandi was dazzling in a black dress and black paten heels. I wore my light brown sear-sucker suit. Again we enjoyed dancing (trying out our salsa, waltz, rumba and cha cha). Lost another $10 on the slots.
MORE NORWAY PICTURES: FLAM
Day 8
Headed back to Rotterdam. Day at sea. Breakfast in our room, but not as much. quiet day of reading and napping. Same evening routine.
Day 9
B'fast with the Waltons and Will. Disembarkment was easy. Our transfer was friendly. Took us straight to Schipol Airport. We had a good flight home in premium seats at the bulkhead. Slept most of the way.
We're gearing up now for Africa. Leave September 6. This time I will try to write on the blog each day so family and friends can keep up with us, post pics as well.