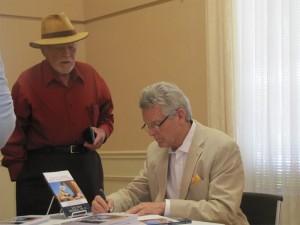 Thursday, April 12, following a successful debut at the Union County Historical Museum, Things I Wish Jesus Hadn't Said received an enthusiastic reception by an equally attended luncheon crowd. Present was well-known Pontotoc writer Dr. Forrest Tutor. The book sold out.
The mixed crowd on hand had numerous and quality questions. Some wondered if the title had been too provocative and possibly turned people off. The answer was "No!" Most have understood the title to mean that most of us wish Jesus hadn't said these things because they hold our feet to the fire.
This regional library, directed by Judy McNeese, holds author/book luncheons once a month. Almost all prominent Mississippi authors have made presentations here. I was previleged to be in that company.